Welcome to the
Astrology Hub Academy
Whether you're brand new to astrology, or more seasoned, our online digital astrology course library has something to offer you. Special topic courses include Your Soul Purpose, Do Your Saturn, Astrology of Relationships, Shamanic Astrology and more.
Astrology Courses for Every Level!
LEVEL 1 – You're a complete newbie! You're very interested but don't know much beyond your Sun sign.
LEVEL 2 – You're beginning to grasp your chart beyond your sun sign: moon, rising/ascendent, and other planets like Mars, Venus, etc.
LEVEL 3 – You're learning how to read your chart and understand houses and aspects.
LEVEL 4 – You have a good grasp on how to read your chart and you're starting to look at other people's charts and synastry.
LEVEL 5 – You are a pro at chart reading, regularly reading other people's charts and synastry between charts.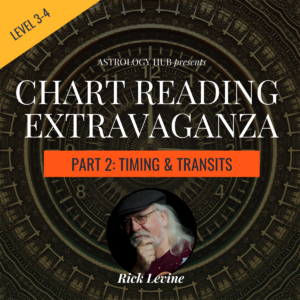 Have you ever wondered how astrologers can get a sneak peek into the future just by looking at a chart?
In this 4-week live class, Master Astrologer Rick 'Merlin' Levine will show you his approach to forecasting and prediction with various astrological timing techniques like transits, progressions, solar return charts, and more. In each session, you'll get to watch Rick give two live chart readings, providing you with an in-depth, behind-the-scenes look at foundational chart timing techniques that you can then apply to read charts for yourself, your loved ones, and/or your clients. If you want to understand how a chart unfolds through time from a living legend in astrology, this class is for you!
LEARN MORE