Welcome to the
Astrology Hub Academy
Whether you're brand new to astrology, or more seasoned, our online digital astrology course library has something to offer you. Special topic courses include Your Soul Purpose, Do Your Saturn, Astrology of Relationships, Introduction to Astrological Magic and more.
We Have An Astrology Online Course for Every Level!
LEVEL 1 – You're a complete newbie! You're very interested but don't know much beyond your Sun sign.
LEVEL 2 – You're beginning to grasp your astrological chart beyond your sun sign: moon, rising/ascendent, and other planets like Mars, Venus, etc.
LEVEL 3 – You're learning how to read your natal chart and understand houses and aspects.
LEVEL 4 – You have a good grasp on how to read your chart and you're starting to look at other people's charts and synastry.
LEVEL 5 – You are a pro at birth chart reading, regularly reading other people's charts and synastry between charts.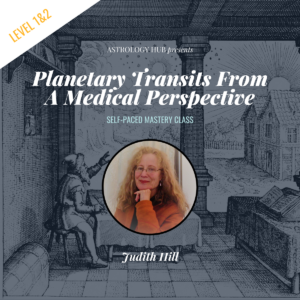 How do planets physically manifest in your body?
In this Mastery Class, Judith Hill introduces you to the ancient art of Medical Astrology, giving insights into how planetary transits affect your health and ways you can begin incorporating it into your practice. You'll learn about the impact that transiting Saturn and Mars have on a natal chart, both by sign and by planets they aspect in the chart. You'll also receive an overview of how the planets interact with the concept of the Zodiacal Man and their physical correspondences within the body. 
LEARN MORE