Ruling Planets for Unruly Times w/ Christopher Renstrom
If your chart was a book, who would be the main character?
All ten major planets factor into your chart, but one of them is extra special…
The most important planet in your chart is YOUR RULING PLANET, which is like your personal celestial guide through the ups and downs of life, work, relationships and more!
You are a child of one of the planets – but which one? And what does it mean?
In Ruling Planets for Unruly Times, you'll learn all about your ruling planet and the role it plays for you based on which planet it is and where it's placed in your chart!
But it's not just your ruling planet that matters…
All of the planets play a part in your story, and in this class, you'll learn about all of them and what they mean in each sign of the zodiac!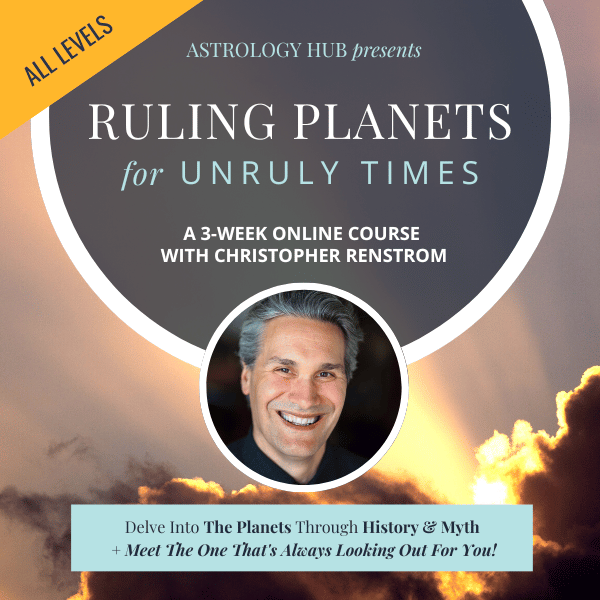 INSTRUCTORS: No items found
DURATION: 9+ Hours
FEATURES: 
12 Units of Course Content Delivered Over 3 Weeks ($347 value)
Downloadable Audio & Video Formats ($147 value)
Downloadable Slide Deck & PDF Transcript ($17 value)
Lifetime Access to All Course Materials ($147 value)
Bonuses:
1 LIVE BONUS Chart Reading & Q&A Session with Christopher Renstrom ($97)
Excerpt from Ruling Planets book by Christopher Renstrom ($17 value)
Total Value: $772
Retail Value: $297
Register Today for Only: $297* or 3 payments of $77
*Limited-time offer until June 1st, 2023!
CURRICULUM:
Week 1:
Introduction & Historical Overview

Children of The Sun / The Sun through the Signs

Children of The Moon / The Moon through the Signs

Children Mercury / Mercury through the Signs
Week 2:
Children of Venus / Venus through the Signs

Children of Mars / Mars through the Signs

Children of Jupiter / Jupiter through the Signs

Children of Saturn / Saturn through the Signs
Week 3:
Children of Uranus / Uranus through the Signs

Children of Neptune / Neptune through the Signs

Children of Pluto / Pluto through the Signs

Planetary Dignities & Joys