Reframing Astrology Workshop Series w/ Frank Clifford
Reframe your understanding of astrology and learn a more empowered approach with Award Winner Astrology Frank Clifford!
Learn about Zodiac Sign Compatibility, how Planets behave in certain Signs, and interpreting Aspects between Planets so you can use these normally known as "difficult" or "bad" parts in your chart to reap the richest rewards your life has to offer!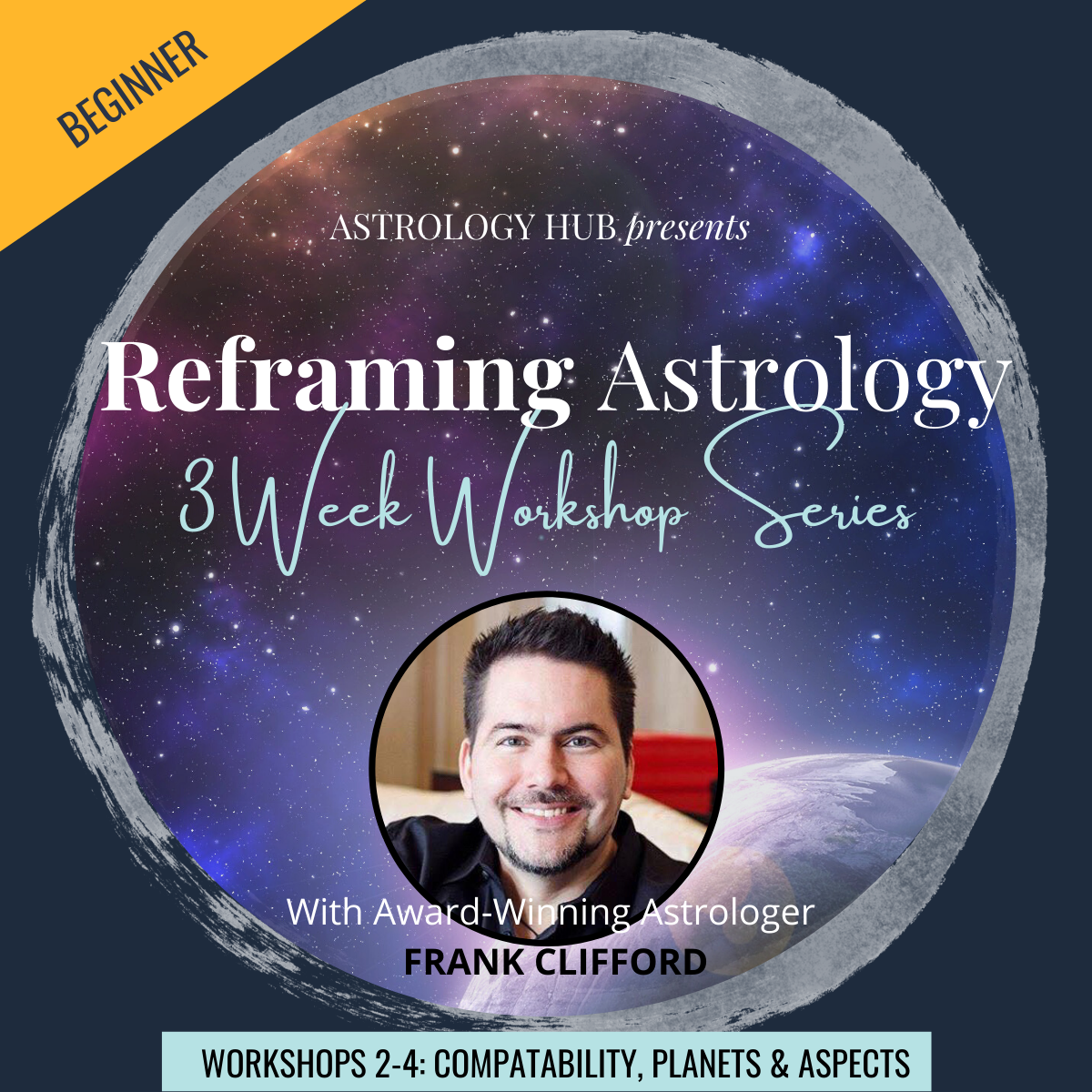 INSTRUCTORS: Frank Clifford
DURATION: 450 Minutes
FEATURES: 
• Access to the THREE 2-Hour Workshops ($247 value)
• THREE 30-Minute Q&A sessions recorded at the end of each workshop ($57 value)
• Lifetime Access to the Recordings of the live events in Video, Audio & Transcript formats ($147 value)
• The complete Slide Decks in PDF format ($27)
• PDF Handouts for quick reference ($47)
• A whole new empowering perspective on your chart, sign compatibility, good placements and "bad placements"... and, Astrology! (Priceless!)
TOTAL VALUE: $525
YOUR PRICE TODAY: $247
CURRICULUM:
In the 3 workshops, you'll build on what you learned in Workshop 1: Reframing The Zodiac Signs + learn about:
WORKSHOP 2

–

Reframing Sign Interactions and Compatibilities:

similarities, differences and the relationships between the signs, the "heart" of many sign combinations + learning to embrace the gifts and differences of each combination;
WORKSHOP 3

–

Reframing Planets in Signs:

understanding how different planets behave depending on the sign they are in, the possibilities and strengths of commonly snubbed planetary positions in the natal chart;
WORKSHOP 4

–

Reframing Planetary Combinations and Aspects:

understanding how "problematic, negative or scary" aspects can be beneficial and why they have such a bad rap + learning to master these aspects in your natal chart to reap the richest rewards your life has to offer!