Astrology Hub's Inner Circle
Learn Astrology in Community with the Masters & Transform Your Life in The Process!
If you've been yearning to dive into your Astrological studies with a consistent support system and trustworthy teachers… If you'd love to have a place to ask questions and get feedback from a community of Astrology Students… And if you see the benefit in using Astrology to consciously navigate the path ahead to transform your life (and our world!)… We invite you to join our Inner Circle community where you get monthly access to the world's best astrologers as your mentors for ongoing astrological training & guidance for navigating what 2023 and 2024 have to bring. They'll provide their top astrological tools & techniques, as well as guidance on how to consciously co-create with the Astrological energies.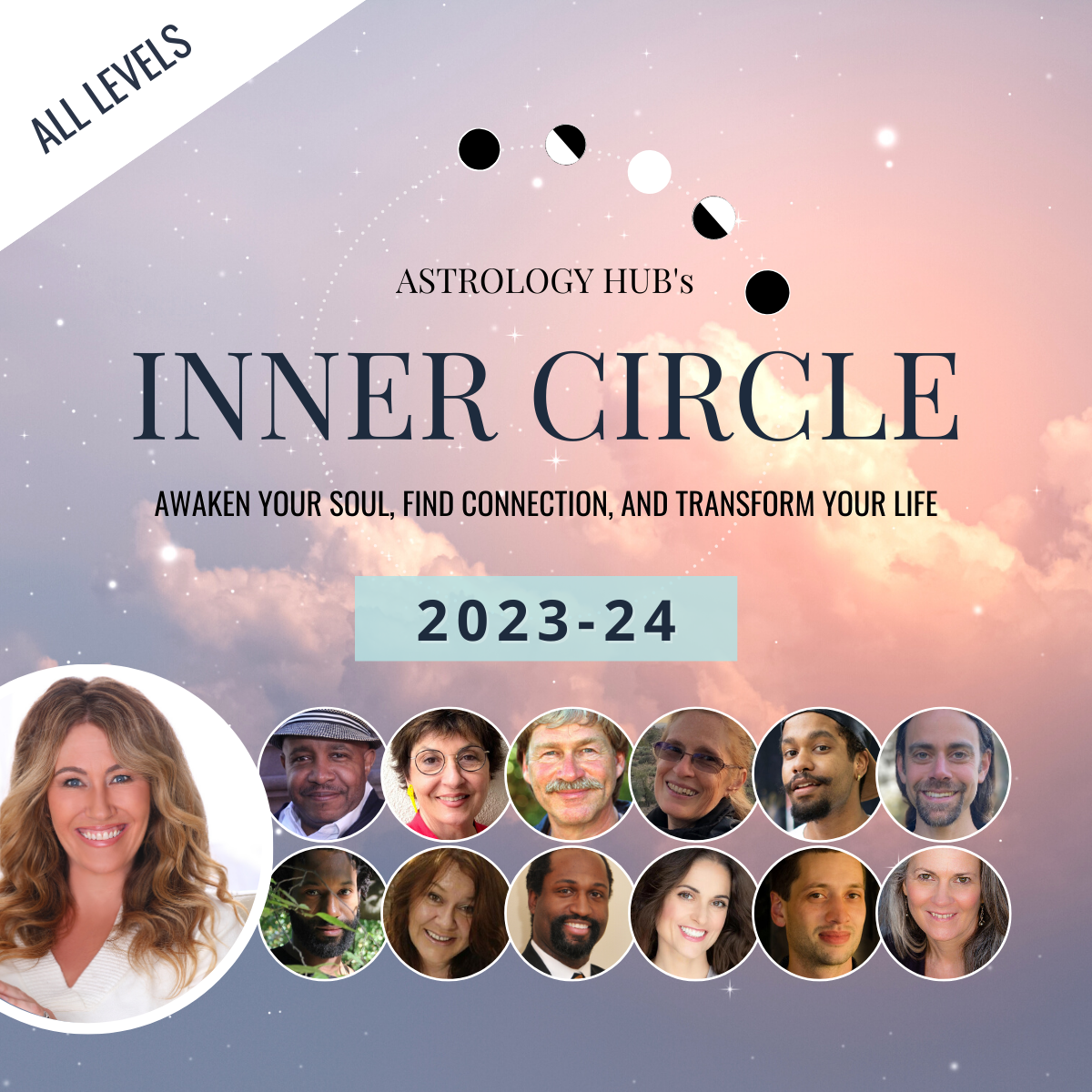 INSTRUCTORS: Ari Moshe Wolfe, Cameron Allen, Cayelin K Castell, Gemini Brett, Georgia Stathis, Henry Seltzer, Joe G. Santos, Omari Martin, Rachel Lang, Ryhan Butler, Samuel Reynolds, Sheridan Semple, Wendy Stacey
DURATION: Ongoing, Month to Month
FEATURES: 
➡ New professional astrologers each month to teach you astrology and guide you to work with the cosmic tides
➡ Detailed live New Moon and Full Moon forecasts & recordings to teach you astrology and guide you to work with the cosmic tides
➡ A New Mastery Class & recording teaching a different astrological technique every month so you can build upon what you've learned in the course
➡ Monthly LIVE Chart Demos & Q&A with Guided Astrologers and recording, with a chance to submit your chart to be used as an example,
➡ Access to our Mighty Networks community of Astrology Students to connect you with your guiding Astrologers AND enthusiastic students from all over the globe
➡ Your Inner Circle Learning Path Guide that gives you a step-by-step guide for moving at your own pace and a custom roadmap for building your relationship to the Cosmos, your community, and yourself
PLUS these bonuses:
➡ A Live New Moon Intention Setting Ceremony each month with Amanda
➡ Cosmic Updates on important transits and energies delivered right to your phone via text
➡ 3 bonus Mastery Classes from Donna Woodwell, Michelle Dench, and Julia Balaz
20% discounts on all Astrology Hub coursesMonthly Astrology Mastery Classes w/ Cliffs Notes $97
➡ Monthly New & Full Moon Forecasts w/ Cliffs Notes $74
➡ Live Chart Demos & Q&A with Guiding Astrologers $30
➡ Private Community $97
CURRICULUM:
March: Aries Moon Cycle w/ Samuel Reynolds
Mastery Class – Solar & Planetary Return Charts
April: Aries (Eclipse) Moon Cycle w/ Georgia Stathis
Mastery Class – Rulerships
May: Taurus Moon Cycle w/ Henry Seltzer
Mastery Class – Working with Shamanic Planets:Pluto, Chiron & Eris
June: Gemini Moon Cycle w/ Cayelin Castell
Mastery Class – Decoding Your Natal Moon Phase 
July: Cancer Moon Cycle w/ Joe G. Santos
Mastery Class – The Fixed Stars: An Astrological Journey Through Music, Art & Story
August: Leo Moon Cycle w/ Gemini Brett
Mastery Class – Aligning with Venus Cycles, Personally & Collectively
September: Virgo Moon Cycle w/ Ari Moshe Wolfe
Mastery Class – Inconjuncts & Yods 101
October: Libra Moon Cycle w/ Cameron Allen
Mastery Class – Aspects in Medical Astrology
November: Scorpio Moon Cycle w/ Wendy Stacey
Mastery Class – Synastry & Relationship Charts
December: Sagittarius Moon Cycle w/ Omari Martin
Mastery Class – Movement Through Time: Secondary Progressions & Solar Arcs
January: Capricorn Moon Cycle w/ Rachel Lang
Mastery Class – Astrological Magic & The Moon
February: Aquarius Moon Cycle w/ Ryhan Butler
Mastery Class – Natal Temperament
March: Pisces Moon Cycle w/ Sheridan Semple
Mastery Class – Introduction to Shamanic Astrology: Understanding Your Soul's Intended Journey