Health Secrets of The Zodiac w/ Cameron Allen
"A physician without a knowledge of astrology has no right to call himself a physician." – HIPPOCRATES, the Father of Modern Medicine
In more ancient times, physicians used the wisdom of astrology and alchemy to treat illness and optimize health, but with time, a lot of that has slipped through the cracks… But a few Astrologers still carry this wisdom today…
In his career as an Astrologer and Herbalist, Cameron supports people to become sovereign in their health and healing practices, based on what's right for them, encoded in their chart… And in this one of a kind course, Health Secrets of the Zodiac, you'll learn about the herbs, crystals, plants, and salts that correlate with your astrological blueprint, and your body.
Cameron's passionate about supporting you to live with more vitality, energy, and purpose… And we're excited to offer this course to you at this pivotal time in human history.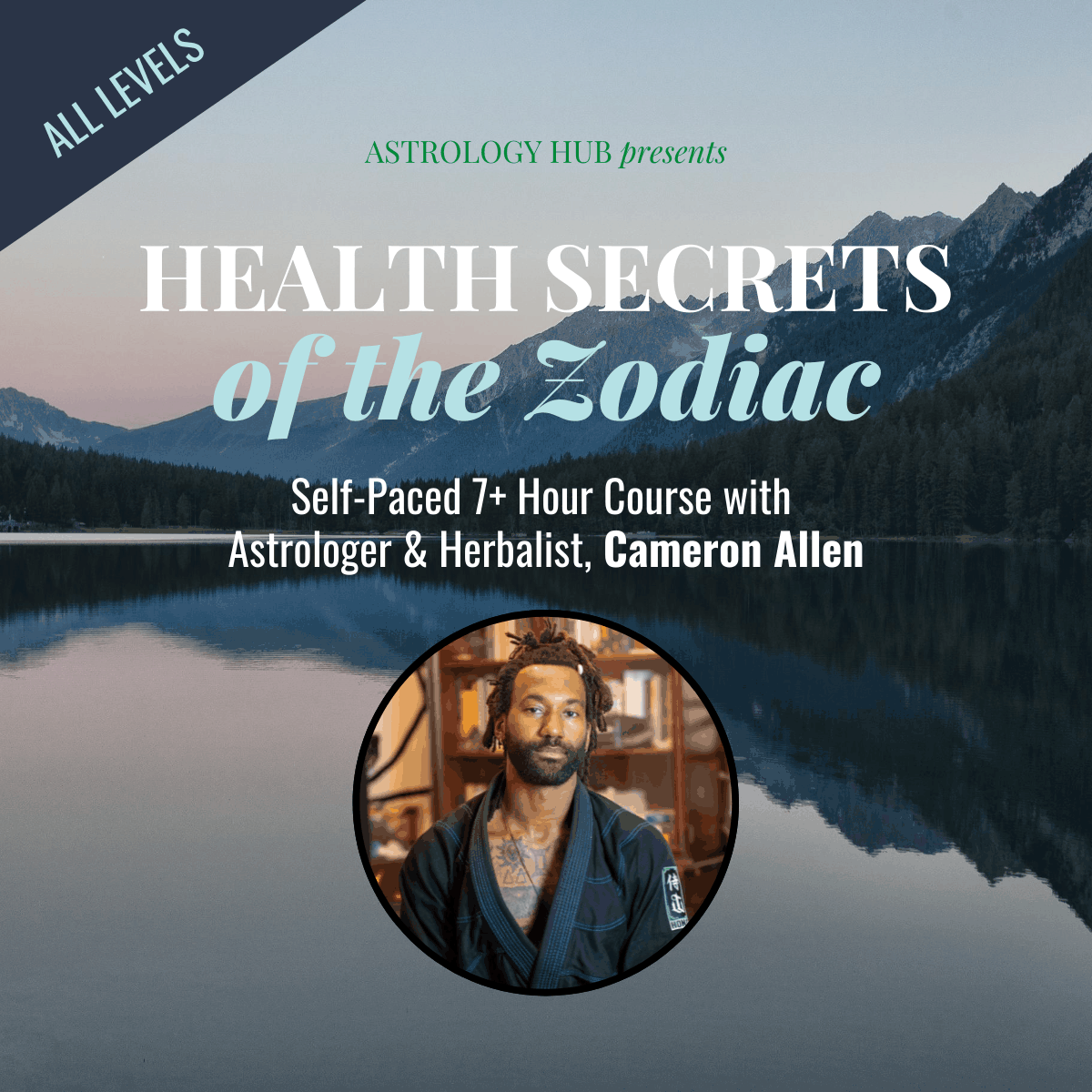 INSTRUCTORS: Cameron Allen
DURATION: 7+ Hours, Self Paced
FEATURES: 
1. 7+ Hours of Teaching on each of the Zodiac Signs & Health in Video, Audio & Transcript Format. ($247 value);
2. The Complete Slide Decks in PDF Format ($57 value);
3. Reference Sheets on Every Zodiac Placement & Associated Herbs, Minerals & More for Quick Reference ($37 value);
4. Recorded Q&A with Cameron Allen addressing your coursework questions! ($47);
Total: $388
Your Price Today: 247
CURRICULUM:
LESSON 1 – Introduction to Holistic Astrology 
Discover Astrology as a holistic lens into the natural world + de-condition what you were told was health.
LESSONS 2 – 13 – Health Through the Zodiac Signs
How each sign connects with the mind, body, and spirit, the challenges and gifts they offer.
Where to look in your chart for key insights on your healing ability and how to work with health challenges.
What herbs, crystals and key practices will benefit you on your path to a holistic lifestyle
Learn application through chart examples.
LESSON 14 – Wrapping Up 
Tune in into the Big Picture of Astrology & Your Health and…
Get clear on where to go from here!
LESSON 15 – Pre-Recorded Q&A
Student coursework questions answered in a Question & Answer session with Cameron Allen!