The Cosmic Calendar w/ Christopher Renstrom
Turn your birth chart into a personal calendar & get in sync with your best life!
In this 3-week course with world-renowned Astrologer and Historian Christopher Renstrom, you'll learn to create your own personalized calendar that will help you align to your natural rhythms and reach your goals, using a uniquely powerful system he's developed over his decades of work in the field. 
Whether you want to start a business, attract your soulmate, or achieve any other life goal, you'll finally know when to take action (and when to hold back), confident that the stars are on your side.
IC Members – You get 20% off! Check your Membership Portal under Bonuses for the code.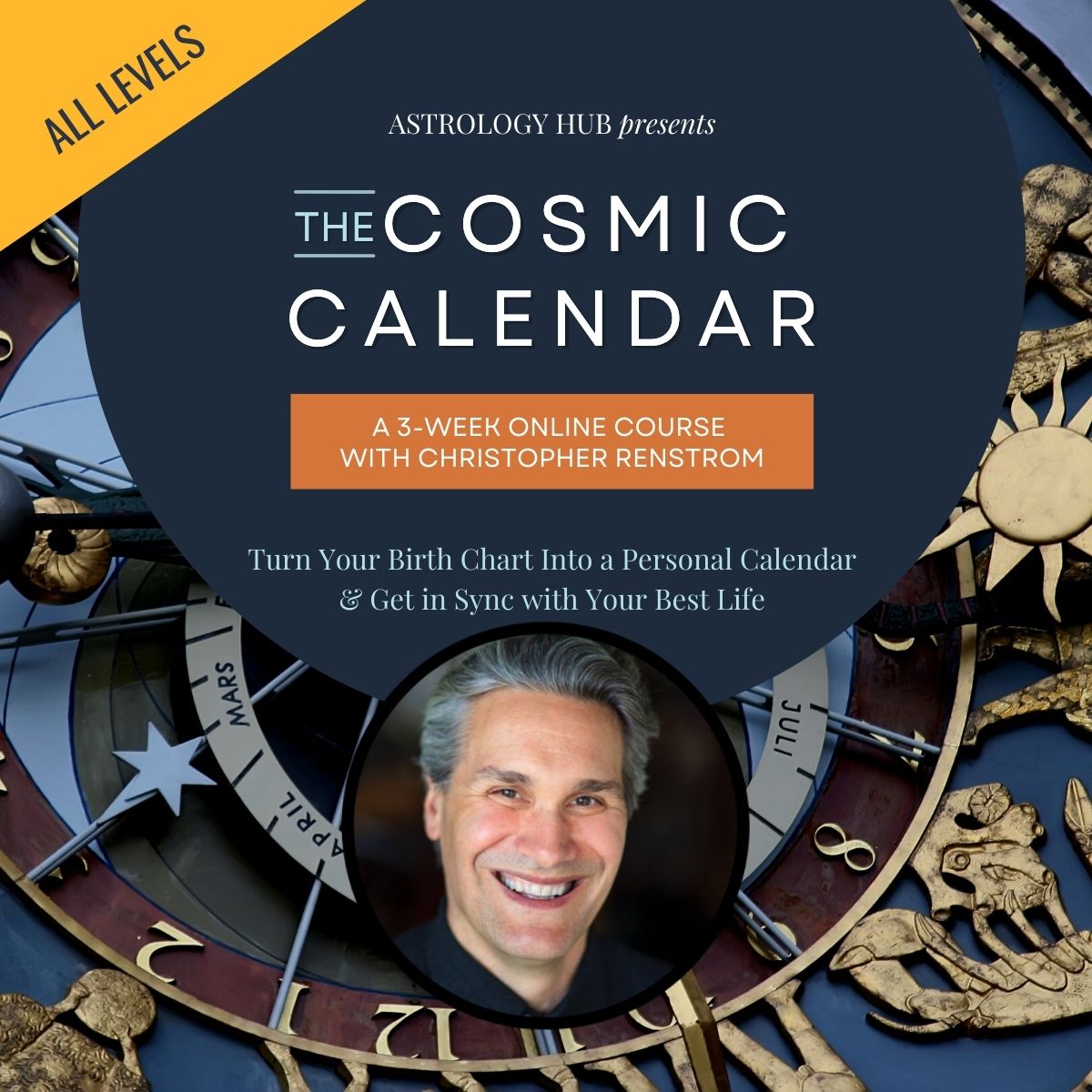 INSTRUCTORS: No items found
DURATION: 10 Hours
FEATURES: 
• 10+ Hours of Video Lessons
• Video, Audio, and Transcript format – $247 value
• Recorded Q&As answering student coursework questions $55
• The complete Downloadable Slide Decks – $37 value
• A Printable Workbook to help you create your Personal Cosmic Calendar – $57 value
• Lifetime Access to All Content – $147 value
PLUS THESE BONUSES:
• A Special Excerpt of the Book, The Cosmic Calendar by Christopher Renstrom - $27 value
• Bonus 1½ Hour Mastery Class with Christopher Renstrom – Step Away from the 7th House - $97 value
• 20% Exclusive Discount on Wicked Veracity's Digital Astrology Calendar - $55 value
Total Value: $969
Retail Price: $497
YOUR PRICE TODAY: $247
CURRICULUM:
MODULE 1: ASTROLOGY IS A CALENDAR
Discover how astrology was used as a calendar throughout civilizations and across centuries

Learn the importances of eclipses, equinoxes, and solstices in the Cosmic Calendar

Start to practice organizing your life according to the seasons
MODULE 2: THE SIGNS AND SEASONS
Learn about the different characteristics of the sun in each zodiac sign, and how they correspond to the seasons

Gain a new understanding and respect for the role of each zodiac sign as a turning point in the year

Explore how to work with each zodiac sign's season no matter what your sun sign is
MODULE 3: YOUR ASTROLOGY CHART AS A PERSONAL CALENDAR
Gain a new understanding of the role of the elements in the Cosmic Calendar

Discover when you are in season or out of season using your birth chart

Create your own Cosmic Calendar with a deeper understanding of times to rest, times to prepare, and times to peak

Walk through an example chart with Christopher to help you refine your understanding
PLUS THESE SPECIAL BONUSES! Special Excerpt of the Book: The Cosmic Calendar By Christopher Renstrom Gain insights into the history of Astrology as a calendar and clock throughout time (and how that is reflected in the seasons, equinoxes, solstices, modes, and elements!) with this special 22-page excerpt from the book this course is based on. 90-Minute Mastery Class: Step Away From The Seventh House with Christopher Renstrom This exclusive masterclass walks you through the techniques he developed to determine relationship compatibility while working for the show, Millionaire Matchmaker. If you want a quick and reliable way to asses compatibility, this class is for you. 20% Exclusive Discount On Wicked Veracity's Digital Astrology Calendar Wicked Veracity's Digital Astrology Calendar will make it easier for you to get in sync with your personal cosmic calendar! Track moon phases, moon signs and eclipses as well as planetary movements and aspects (and more!) all in one place! This digital astrology calendar will transform your daily calendar into your favorite astrological resource.