Chart Reading Extravaganza: Harmonic Aspects with Rick Levine
Tap into the magic of harmonic aspects and gain invaluable chart reading skills from a living legend in astrology!
Master Astrologer Rick Levine will show you how to take your chart work to the next level using harmonic aspects through student reading demonstrations, interpretation explanations, and instructions. Rick will open each session with a short technique overview and then dive into four student chart readings, giving you a window into the chart reading process and how to incorporate the magic of harmonic aspects into your own study!
After all of the chart reading sessions, join Rick for a prerecorded Q&A where he further demystifies harmonic aspects, shares helpful tips and gives book recommendations to further your study. Plus, this course includes a BONUS crash course in Harmonic Aspects! If you don't have any previous experience with Harmonic Aspects, no worries! This bonus lecture was made just for you.
If you want to tap into the magic of harmonic aspects, and learn how to apply them to reading charts for yourself, your loved ones and/or your clients, this class is for you!
**Astrology Foundations Level 1, 2 & 3 and Chart Reading Extravaganza Part 1 & 2 are not mandatory prerequisites for attending!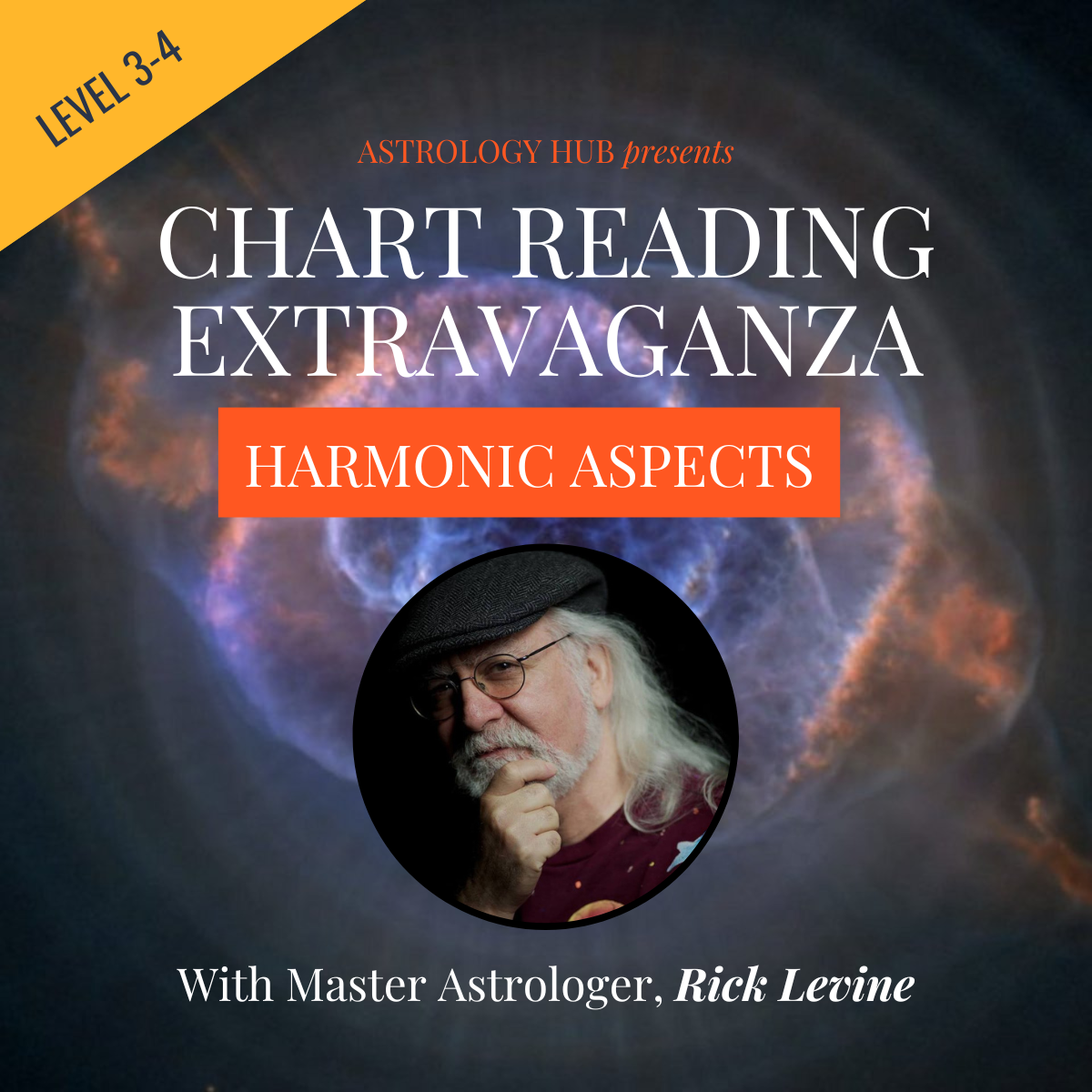 INSTRUCTORS: Rick Levine
DURATION: 10+ hours of teaching
FEATURES: 
What you'll get:
- 4 prerecorded sessions of chart interpretation with Rick Levine on various Harmonic Aspects ($297 value)
- The course in audio, video, and transcript format ($37 value)
- Lifetime access to all course materials ($297 value)
- BONUS Q&A with Rick ($97 value)
- BONUS 1-hour crash course in Harmonic Aspects 101 ($97 value)
- BONUS Harmonic Aspect cheat sheet ($37 value)
CURRICULUM:
Rick will read 4 charts per session, 30-minutes each for 2 hours total each session.
In these prerecorded sessions, students are brought on screen to have their harmonic aspects read by Rick himself, giving you a window into the chart reading process and how to incorporate harmonic aspects into your own study!
Session 1: Quintiles (deciles), septiles—Learn about the fascinating connection between quintiles and the creative manifestation of beautiful Venus. Learn why the supernatural septiles can be the key to powerful self-expression or the frustration of alienation.
Session 2: Octiles (semisquares and sesquisquares, yet also including squares and oppositions)—These aspect have the greatest impact on the three-dimensional world and can bring the squares and oppositions into new levels of clarity.
Session 3: Noviles and eleventiles (elftiles, undeciles, or whatever you choose to call them)—Learn how noviles reveal the smooth and easy grace of a person's life and how they fit into existing sextiles and trines. Explore the outsider's perspective and their dogged persistence through the eleventiles.
Session 4: Integration of it all—How to determine which aspects to look at. What if we have a chart with NO harmonics? What if we have a lot of noviles and septiles, but no squares… where do you go?
Bonus Q&A: In this 2 hour Q&A session, Rick answers common questions students encounter when studying this complex topic, further demystifying the hidden world of Harmonic Aspects.