Welcome to the
Astrology Hub Academy
Whether you're brand new to astrology, or more seasoned, our online digital astrology course library has something to offer you. Special topic courses include Your Soul Purpose, Do Your Saturn, Astrology of Relationships, Shamanic Astrology and more.
Astrology Courses for Every Level!
LEVEL 1 – You're a complete newbie! You're very interested but don't know much beyond your Sun sign.
LEVEL 2 – You're beginning to grasp your chart beyond your sun sign: moon, rising/ascendent, and other planets like Mars, Venus, etc.
LEVEL 3 – You're learning how to read your chart and understand houses and aspects.
LEVEL 4 – You have a good grasp on how to read your chart and you're starting to look at other people's charts and synastry.
LEVEL 5 – You are a pro at chart reading, regularly reading other people's charts and synastry between charts.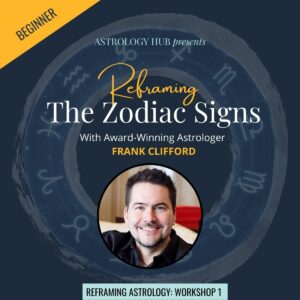 Are you ready to shed disempowering beliefs and step into a new view of yourself that honors you truly are? 
The Reframing the Zodiac Signs workshop gets straight to the heart of each sign and teaches you how to look at your chart in an inspired and grounded way to better understand your personal journey and become who you were born to be.
LEARN MORE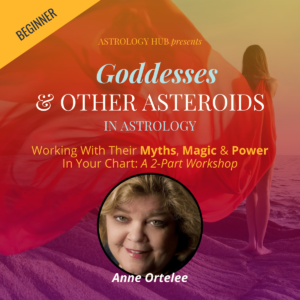 Are you fascinated with the "Goddess Asteroids" and other Asteroids in Astrology? Do you want to learn more about their meaning and significance in your chart? In this 2-part workshop with Predictive Astrologer Anne Ortelee, you'll explore the myths, magic, and power of the Goddesses and Asteroids in astrology. This…
LEARN MORE