The Astrology Foundations Bundle w/ Rick Levine
Are you ready to take your chart reading skills to the next level and step beyond the basics?
Rick is one of the world's most loved and acclaimed astrologers… and this is the first foundational course suite he's taught in over 25 years. With this Astrology Course Bundle, you'll be one of the lucky few to have not just one essential teaching from Rick, but ALL 4 of his most current classes on birth chart interpretation.
In Astrology Foundations 1, he walks you through his integral teachings on Signs, Houses, Planets and Aspects that he's developed through his decades as a practicing Astrologer. With Astrology Foundations 2, you'll learn how to synthesize all of these interpretative devices to deliver accurate and clear delineations about ANY Natal Chart. And finally, in Chart Reading Extravaganza 1 & 2 you'll see the Master's process from beginning to end on how to put all your newly acquired astrological knowledge into practice.
This course is designed for students of all levels… beginners will get a solid footing in the building blocks of astrology and more advanced students will get to add Rick's unique perspective to their astrological toolkit!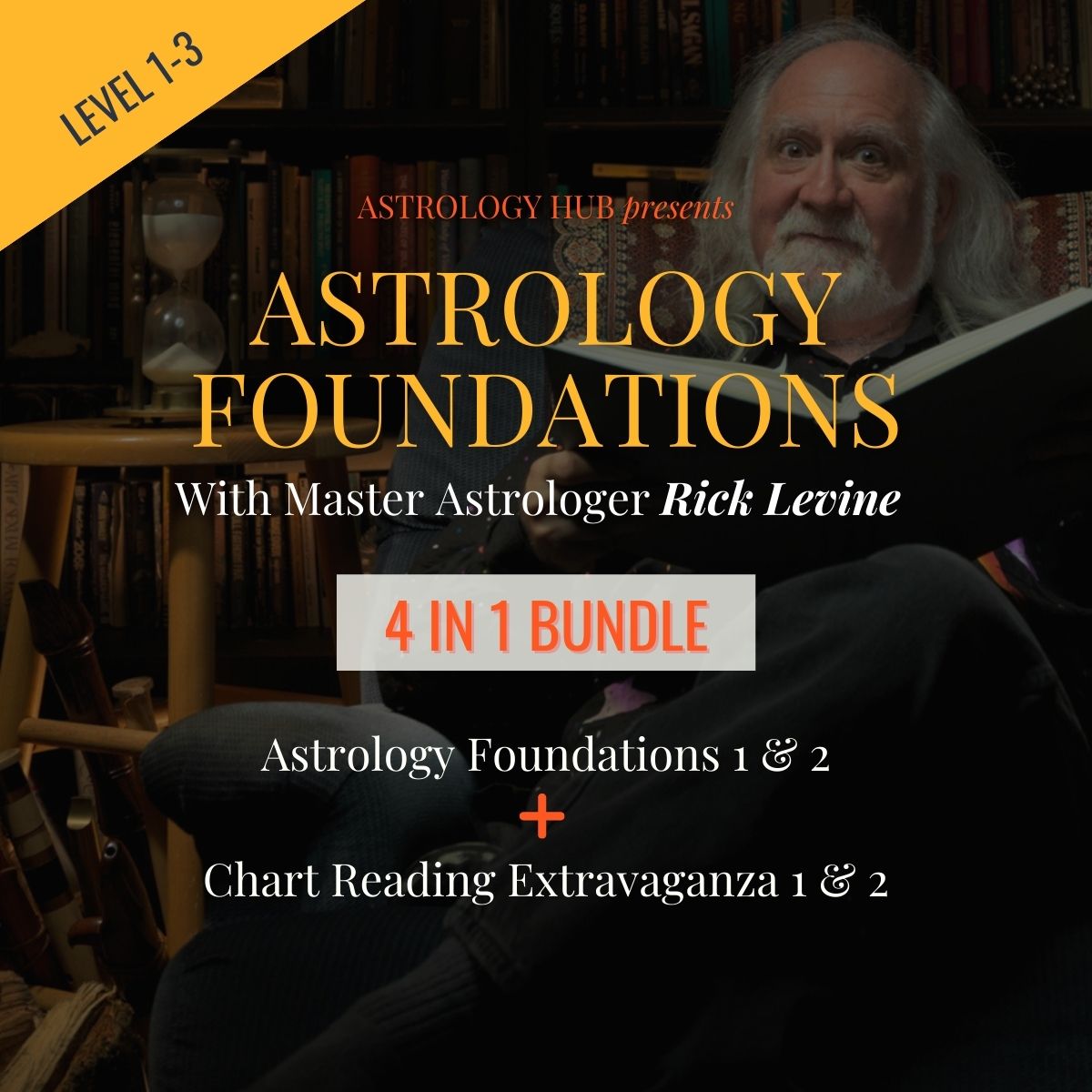 INSTRUCTORS: Rick Levine
DURATION: 40+ hours, separated into 4 courses (self paced)
FEATURES: 
40+ Hours of Teaching, separated into 4 courses:
1. Astrology Foundations Level 1
2. Astrology Foundations Level 2
3. Chart Reading Extravaganza Part 1
4. Chart Reading Extravaganza Part 2: Timing & Transits
Lifetime access to all course materials in Video, Audio & Transcript Format!
BONUSES
- The Meaning of the Planetary & Zodiacal Glyphs BONUS episodes of The Cosmic Connection with Rick Levine with downloadable PDF Study Guides
- Planetary Hours: A Simple Way To Optimize Your Day with Dr. Jenn Zahrt (Video Lesson & e-Booklet)
- Exclusive Interviews with New York Times bestselling author Thomas Moore & astrological icon Demetra George
RETAIL VALUE (if you purchase the courses separately): $1188
YOUR BUNDLE PRICE TODAY: $720 (40% off Retail Value!)
CURRICULUM:
Astrology Foundations MODULE #1:

The Zodiac: Starting with the Elements And Signs

Lesson #1: Fire

Lesson #2: Earth

Lesson #3: Air

Lesson #4: Water

Recorded Q&A

Astrology Foundations MODULE #2:

The Planets: Where the Signs Come Alive

Lesson #1: The Luminaries (Sun and Moon)

Lesson #2: The Personal Planets (Mercury, Venus, & Mars)

Lesson #3: The Social Planets (Jupiter & Saturn)

Lesson #4: The Transpersonal Planets (Uranus, Neptune, & Pluto)

Recorded Q&A

Astrology Foundations MODULE #3:

The Horoscope Chart: The Map of Astrology

Lesson #1: The Horoscope: Cycle of Experience

Lesson #2: The Houses: Where the Planets Play

Lesson #3: The Keys to the Map (Signs & Degrees)

Lesson #4: House Systems & Housekeeping

Recorded Q&A

Astrology Foundations MODULE #4:

The Aspects: The Harmony of the Spheres

Lesson #1: Conjunctions, Squares, & Oppositions

Lesson #2: Trines & Sextiles

Lesson #3: Quincunxes & Non-Zodiacal Aspects

Lesson #4: Planetary Configurations

Recorded Q&A

Astrology Foundations MODULE #5:

Putting It All Together

Lesson #1: Intro to Reading a Chart

Lesson #2: Intro to Transits (Timing is Everything)

Lesson #3: Intro to Mundane Astrology

Lesson #4: Taking The Next Step (Where do you go from here?)

Recorded Q&A

Astrology Foundations Level 2 Module #1: Orientation to Chart Interpretation

Lesson #1: Course Overview

Lesson #2: Approaching the Horoscope: Working with the Basics

Lesson #3: Introduction to Reading a Chart

Lesson #4: The Planets in Our Pockets

Astrology Foundations Level 2 Module #2: Chart Delineation: Analysis & Synthesis

Lesson #1: So Many Variables, So Little Time

Lesson #2: Additional Considerations in Analysis: Delineation vs. Counseling

Lesson #3: Additional Considerations in Analysis

Lesson #4: The Never-ending Additional Points

Astrology Foundations Level 2 Module #3: Analysis: More on Aspects

Lesson #1: Stressful vs. Flowing Aspects

Lesson #2: Physical vs. Metaphysical Aspects

Lesson #3: Natal Aspects vs. Transiting Aspects vs. Synastry Aspects

Lesson #4: Working with Midpoints

Astrology Foundations Level 2 Module #4: Timing is Everything

Lesson #1: Working with Transits

Lesson #2: Additional Timing Techniques

Lesson #3: Working with Outer Planetary Cycles

Lesson #4: The Role of the Astrologer

Astrology Foundations Level 2 Module #5: Synthesis

Lesson #1: Seeking the Core Meaning

Lesson #2: Telling Stories

Lesson #3: Service vs. Performance

Lesson #4: As Above, So Below
Chart Reading Extravaganza – 4 Lessons with 2 chart readings per session, each including:

Lesson #1: Seeking the Core Meaning

Lesson #2: Telling Stories

Lesson #3: Service vs. Performance

Lesson #4: As Above, So Below
Chart Reading Extravaganza Part 2: Timing & Transits – 4 Lessons with 2 chart readings per session, each including:

Lesson #1: Saturn cycles

Lesson #2: Secondary Progressions

Lesson #3: Saturn Cycles and Secondary Progressions + Rick's approach to Solar Arc Directions

Lesson #4: Combined Secondary Progressions & Annual Profections