"Under this pressure, under this weight, we are diamonds, taking shape." – Coldplay, Adventure of a Lifetime
I had such a hard time pinpointing the energy this week because there's just so much going on in the cosmos…
Which makes me think there's probably a lot going on in your life as well (as above, so below, right?)

So I thought the best thing to do would be to point you in the right direction…
Depending on what's most active for you right now, you can "choose your own adventure" and tune into the content that's most relevant for you!
If you've had a lot of upsets and surprises in the last few months, and need some perspective to help you move forward, tune into Christopher Renstrom's Horoscope Highlights…
Christopher talks about Uranus going retrograde while Venus turns direct this week with a wonderful story from an episode of Star Trek, "The City on the Edge of Forever", illustrating the idea that there's a plan for our life that we're not always aware of…
"Uranus retrograde is the idea of being given a second chance. Venus coming out of retrograde is a restoration of "normal" in your love life, in your home life, in your professional life… but the normal that it comes back to is not in the way you expect. There will have been a sobering revelation, a sacrifice, an understanding that even if you could go back and change things that you can't because this is the way life is meant to play out."
If you're noticing that you're getting a "reality check" with some of the plans you've implemented or paths you're going down, or dealing with challenges in your life that are resulting from too many or too few boundaries, you won't want to miss Jamie Magee's Star Signs Weekly.
Every week Jamie does a "by sign" horoscope so you can get more personalized insights for how the astrological energies are coinciding with your Sun and Rising Signs.
And if you want a VERY practical day by day breakdown for the week ahead, to help you time important decisions and actions, tune into Mychal Bryan's Weekly Astrological Weather.
Mychal is one of the teachers in our upcoming Health, Wealth and Fulfillment workshop series and he is absolutely incredible!
Tune into his weather this week and find out what day is best for launching something new (hint: if you're thinking about launching something you'll want to watch this TODAY!), what days are presenting some serious potholes that you will want to avoid, and when it would be best to just sit back and review where you're at (versus taking action).
I hope these episodes are helpful, and that you find the content you're needing right now.
And remember, if you're feeling significant stress and strain in your life right now (I know many of us are)…

That it's the significant heat and pressure that miraculously turns carbon into a diamond.
It's in these times that the alchemical process of transformation is happening…
You're a diamond… taking shape.
With love,
Amanda
P.S. Next week Judith Hill kicks off our Health, Wealth and Fulfillment workshop series! Learn practical, tangible chart reading techniques to uncover your unique path to optimal health, live your definition of wealth, and cultivate your personalized experience of peace and contentment. Judith Hill, Georgia Stathis and Mychal Bryan are doing their final presentation preparations right now… and they can't wait to see you in class! Click here to learn more and join us now.
P.P.S. Your donations have been put to good use! Our $42k in donations for the Maui Fires have been distributed to postpartum mothers and babies, people building sustainable long-term housing for the displaced families, people making meals, and individual families who are trying to get back on their feet.
There's been a lot of controversy about the Maui fires, and I had the opportunity to share my perspective as well as dive into some of the astrology surrounding the event on a recent podcast episode with Astrologer Adam Sommer. You can have a listen here.

🔥 Monday, August 28th: Igniting Success
Mars Sesquiquadrate Jupiter
Today's energy is all about successful work and the manifestation of our will in the world. Harness the electric sky and channel your enthusiasm into your endeavors. This is a day that corresponds with success, so take advantage of it!
🌬️ Tuesday, August 29th: A Quiet Pause
The sky is relatively quiet today, offering a moment of respite. After the energetic burst of the previous day, use this time to reflect and recharge. It's a "dead air" sort of day, so consider focusing on personal well-being and inner reflection.
🔊 Wednesday, August 30th: Speak, but Tread Lightly
Mercury parallel Mars
Communication is in the spotlight today, but it's crucial to be mindful of your words. While there's a strong urge to express oneself, avoid being corrosive or explosive in your language. Stand up for yourself, but do so with tact and grace. Be wary of debates and arguments, as everyone might feel emboldened to voice their opinions.

🌌Thursday, August 31st: A Time of Respite
Today is a good day to dive deep into introspection and meditation, and let off some of the steam from yesterday's firey transit. Trust in the universe's plan and know that everything is aligning for your highest good.
🌓Friday, September 1st: Digging Deep for Willpower and Success
Mars Quincunx Saturn
Today you may feel as though your energy is blocked or stunted within you and success is harder to come by. It may not be the best day to start a new project or launch something, but if you do, just know that it may take extra willpower to accomplish.
🌟Saturday, September 2nd: Mindfully Communicate
Mercury Contraparellel Mars
Today is another day that calls for mindful communication. Harsh words may come from you, or to you from other people. Try not to take anything personally, and know that fiery Mars is just in a hard aspect to the planet of communication, Mercury. You may also find that your mind is incredibly stimulated. Perhaps put pen to paper to release this energy as opposed to spewing it on those that surround you.
🌹Sunday, September 3rd: Venus Blooms Anew
Venus Stationing Direct
Venus, the planet of love and beauty, takes center stage as she stations direct. This marks a time of renewal in relationships and personal values. Reflect on the lessons from her retrograde journey and set intentions for love, harmony, and beauty in the coming weeks.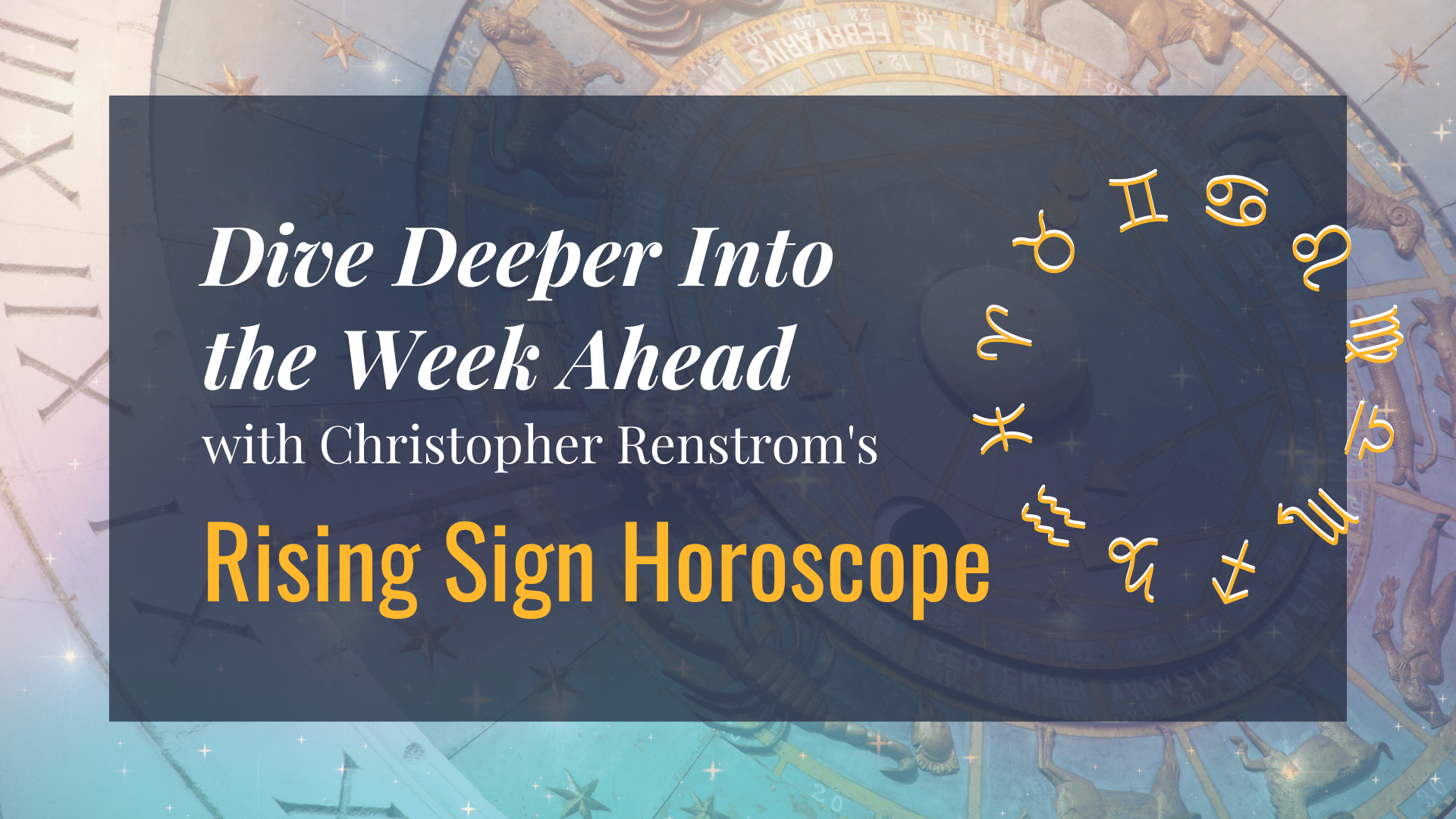 [WEEKLY ASTROLOGICAL WEATHER] with Mychal Bryan

[HOROSCOPE HIGHLIGHTS] with Christopher Renstrom

[STAR SIGNS] with Jamie Magee

with Astrologer Judith Hill

with Yoga Teacher and Moon Circle Guide, Annie Bonifas

with Georgia Stathis