[Cosmic Insider] Get your astrological "medicine" for the week!
I'm always so honored when we get to feature living astrological legends on the Astrology Hub Podcast…
And this week's weekly weather is definitely one of those times!
Judith Hill is a world-renowned Medical & Vocational Astrologer and one of the best in the field.
Her guidance on the Weekly Weather is practical, fun and SO helpful! I'll let the comments speak for themselves…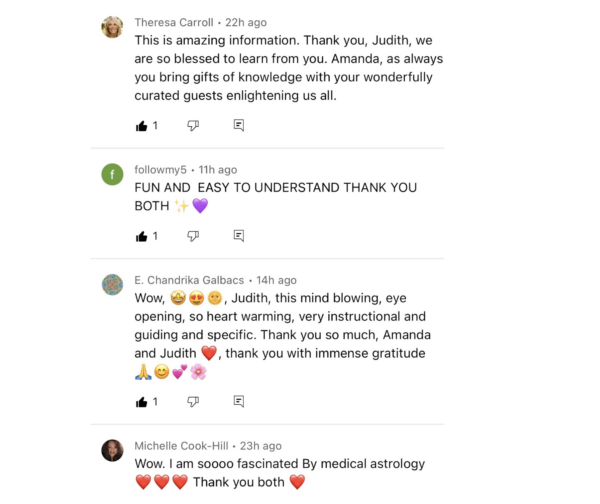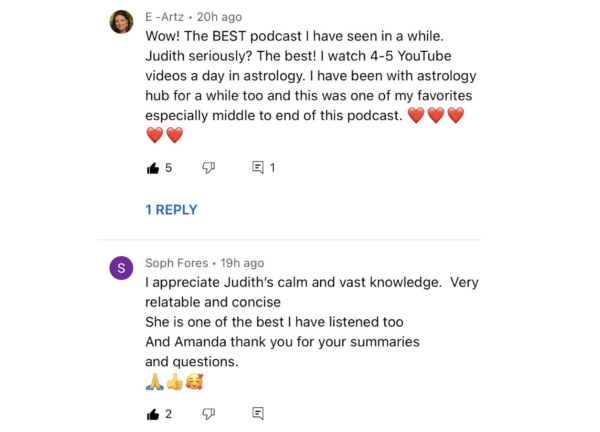 You'll want to check out the full episode here to see what everyone is raving about for yourself.
I especially loved Judith's answer to my question toward the end, "Why and how does astrology actually work?"
Her explanations were profound.
I hope you enjoy your weekly dose of astrological medicine, and that you have a smooth transition into a very new dynamic this week.
In gratitude,
Amanda
P.S. Astrology Hub's 7th Birthday is coming up on July 14th and we're using this Saturn/Square opportunity to bring together an All-Star Cast for a free panel event! The panel is featuring the astrologers who have played a prominent role in getting us where we are today (you're going to LOVE seeing them all together!). Look for a special invitation to the birthday party (including party favors!) in your inbox on Wednesday.
P.S.S. Today is the last day to take advantage of the July 4th special on 4 mastery classes! Choose your level or special interest and take advantage of the savings! This is an incredible offer you don't want to miss. 
Beginner Level: Love Among the Elements with Christopher Renstrom
Intermediate Level: The Importance of Phase with Georgia Stathis
Advanced Level: Electional Astrology with Omari Martin
Special Interest: Transits From a Medical Perspective with Judith Hill
What: A limited-time 20% discount on 4 Mastery Classes 
Inner Circle Members: 40% off (check your membership portal for your special code)
When: Ends tonight, July 5 at midnight!
How: Enter the code 4July at checkout 
[WEEKLY WEATHER] with Judith Hill
World-renowned Medical & Vocational Astrologer (and living legend) Judith Hill shares her forecast for the week ahead including the different physical influences of the planets this week, the shift of Mercury and Mars into new signs and its significance and shares her view on why Astrology works. Watch or listen here.
[HOROSCOPE HIGHLIGHTS] with Christopher Renstrom
Christopher shares the story of the famous fable, The Tortoise and the Hare, drawing parallels between the pace of the signs. This week, Christopher shares the story of the famous fable, The Tortoise and the Hare, drawing parallels between the pace of Earth/Water signs and Fire/Air signs. Watch or listen here.
[STAR SIGNS] with Jamie Magee
Find out what power struggle may emerge, how Mars will work with Pluto before it changes signs, and why Mercury and Saturn ask for clarity and organization for your zodiac Sun and Rising sign this week. Watch or listen here.
[THE COSMIC CONNECTION] with Rick Levine
Learn about the astrological significance of July 1st and August 1st, why you should still be mindful of the Saturn and Uranus square, and the progress of the USA's Pluto Return in Rick's Astrological forecast for the month ahead. Watch or listen here.
with Tracy Cook
Learn about the Cardinal Lunations and how they relate to the development of your intentions, how to edit the treasure map you made earlier in the year, and examples from Amanda, Tracy, and the audience of what happened after they made their Treasure Map.  Watch or listen here.