One of the biggest benefits I see for tuning into our planet's natural rhythms through astrology is this…
There are built-in moments every day, month, and year that even just a cursory acknowledgment of, can bring richness, meaning and momentum to your life.
And we have a BIG opportunity to do this, later this week.
In our Inner Circle Community, we commemorate each new Lunar Cycle with a New Moon Intention Setting Ceremony.
At the end of these ceremonies, I invite any members who feel called, to come on screen and share their reflections. I am continuously moved by them…
Something that came up repeatedly last week, was how grateful people are for the opportunity to connect rhythmically and in community, because it provides an anchor they can depend on, no matter how crazy life gets.
Hundreds of us gather monthly to do this… but you can incorporate "anchor points" in your life in effortless ways. It can be as simple as…
Paying attention to the sunrise, which provides an opportunity to begin anew, and the sunset, which brings an opportunity to reflect on the day…
Acknowledging the monthly New Moon as a reset and regroup point…
And a particularly impactful practice is to acknowledge the Equinoxes and Solstices every 90 days, which mark the beginning of each season.
You can use this time to review the previous season and prepare for the next.
It's interesting, I read a lot of leadership and entrepreneurial books to help me grow in my role here at Astrology Hub.
And the consensus seems to be, from researchers who have no connection with Astrology or this idea of "natural rhythms," that 90 days is the optimal timeframe to use for sustained, long-term achievement and momentum.
They say this timeframe is long enough to actually accomplish things and short enough so we don't burn out.
I always get a kick when worlds collide this way… the business research confirming what those of us who ride the cosmic energies already know!

It's why the Equinox this Friday/Saturday (when the light of the day and the dark of the night are in equal balance) is the perfect moment to reflect on the season that we just ended and look forward to the next.
To do this, you can take a simple moment to reflect…
What worked? What didn't? What did you learn? What did you accomplish? What did you let go of? What are you most proud of?
And look forward to this final season of the calendar year.
What are you hoping to accomplish? What 90-day goals or intentions can you set for yourself? What will you need to let go of in order to be successful? What intentions did you have at the beginning of 2023 that you need to refocus on in order to accomplish what you committed to?
Finally, you can very simply ritualize this to make it a little more "sticky," marking the ending of a chapter and the beginning of a new one…
Being in Hawaii, the seasons aren't as obvious, so I always do little things to "bring the seasons to us."
I have different wreaths I hang on the door, a new set of placemats for the table, and I set out candles with colors and scents that match the season.
My daughters and I have also started keeping a "gratitude jar"… and we're reading the gratitude notes we've written throughout the season at the Equinoxes and Solstices.
Cameron Allen, our Weekly Weather astrologer talks about the Equinox being the perfect time to do a "restorative cleanse… "
This could be another way for you to commemorate this pivot point in time… out with the old and in with the new (for your body!)
What you choose to do can be as simple or elaborate as you want…
It's the act of acknowledgment and reflection that creates the ripple effect in your life.
And when you tune into these 4 points per year continuously, you'll see the beautiful tapestry they weave!
Do you have any rituals you like to do at the Equinox? I'd love to hear! We can create a database of great ideas and I'm happy to continue sharing ideas with you as we go through these points throughout the year.
Simply reply to this email and share your favorite things to do to mark the changing of the seasons.
With all of this said, Happy Equinox!
May it be the beginning of a beautiful chapter ahead…
And the closing of a chapter you're ready to end.
With love,
Amanda
P.S. If part of your intentions for the next season include goals for your body, bank account or sense of fulfillment, it's not too late to join our Health, Wealth and Fulfillment Workshop Series! The brilliant Georgia Stathis is up next… helping you identify and remove your blocks to abundance, based on your astrology chart. You can join us for this workshop OR get the whole series at the best pricing we'll offer this year. 
Click here to learn more and join us now!

🌿 Monday, September 18th: Harmonizing Desires
Venus in Leo squaring Jupiter retrograde in Taurus
Preparing for the Equinox
Today beckons you to harmonize your desires, possibly steering you towards a deeper understanding of your physical well-being. As we inch closer to the equinox, it's a day to align with the natural rhythms, preparing your body and spirit for the seasonal transition. Remember, it's a day to nurture yourself, laying the groundwork for a balanced and harmonious week ahead.
🌪️ Tuesday, September 19th: Emotional Whirlwind
Moon in Scorpio opposing Uranus in Taurus
Mars in Libra inconjunct Jupiter in Taurus
Today might stir up an emotional whirlwind, urging you to delve deeper into your feelings. It's a day to be genuine in your expressions, even if it means venturing into uncomfortable emotional territories. Remember, it's a day to honor your true feelings, allowing yourself the space to be both vulnerable and authentic.
🧘 Wednesday, September 20th: Grounding in Awareness
Sun trine Pluto retrograde
Focus on the relationship between your feet and hips
Today invites you to ground yourself through a heightened awareness of your physical body, particularly focusing on the connection between your feet and hips. It's a day to explore the wisdom that resides in your body, possibly unveiling insights through mindful movements. Remember, it's a day to nurture a harmonious relationship with your body, tuning into its subtle messages and guidance.
📖 Thursday, September 21st: Nature's Wisdom
Moon in Sagittarius meeting Mercury in Virgo
Sun trine Pluto retrograde
Today encourages you to immerse yourself in the wisdom of nature, perhaps through a reflective journaling session amidst natural surroundings. It's a day to let your thoughts flow freely, finding inspiration in the beauty of the natural world. Remember, it's a day to foster a deep connection with nature, allowing it to nurture your spirit and spark creativity.
🌸 Friday, September 22nd: Harmonious Preparations
Approaching the Equinox
Emphasis on balance and harmony
Today, as we stand on the cusp of the equinox, it's a day to foster harmony and balance in preparation for a rejuvenating cleanse. It's a day to focus on cleansing and rejuvenating your body, taking advantage of the close proximity of energy between the inner and outer realms. Remember, it's a day to create a sacred space of harmony within you, embracing the transformative energies of the equinox.
🌙 Saturday, September 23rd: Navigating Desires
Moon squaring Mars
Moon inconjunct Venus
Today might present a tug of war between your desires and your commitments. It's a day to acknowledge your feelings without giving in to impulsive desires. Remember, it's a day to stay grounded in your intentions, nurturing a sense of discipline and self-care.
🌈 Sunday, September 24th: Renewed Beginnings
Reflecting on the past week
Preparing for the week ahead
Today offers a fresh start, inviting you to reset and embrace renewed energies for the week ahead. It's a day to reflect on the learnings from the past week, appreciating both the highs and the lows. Remember, it's a day to recharge your spirit, stepping into the new week with a heart full of hope and a spirit ready to embrace new opportunities.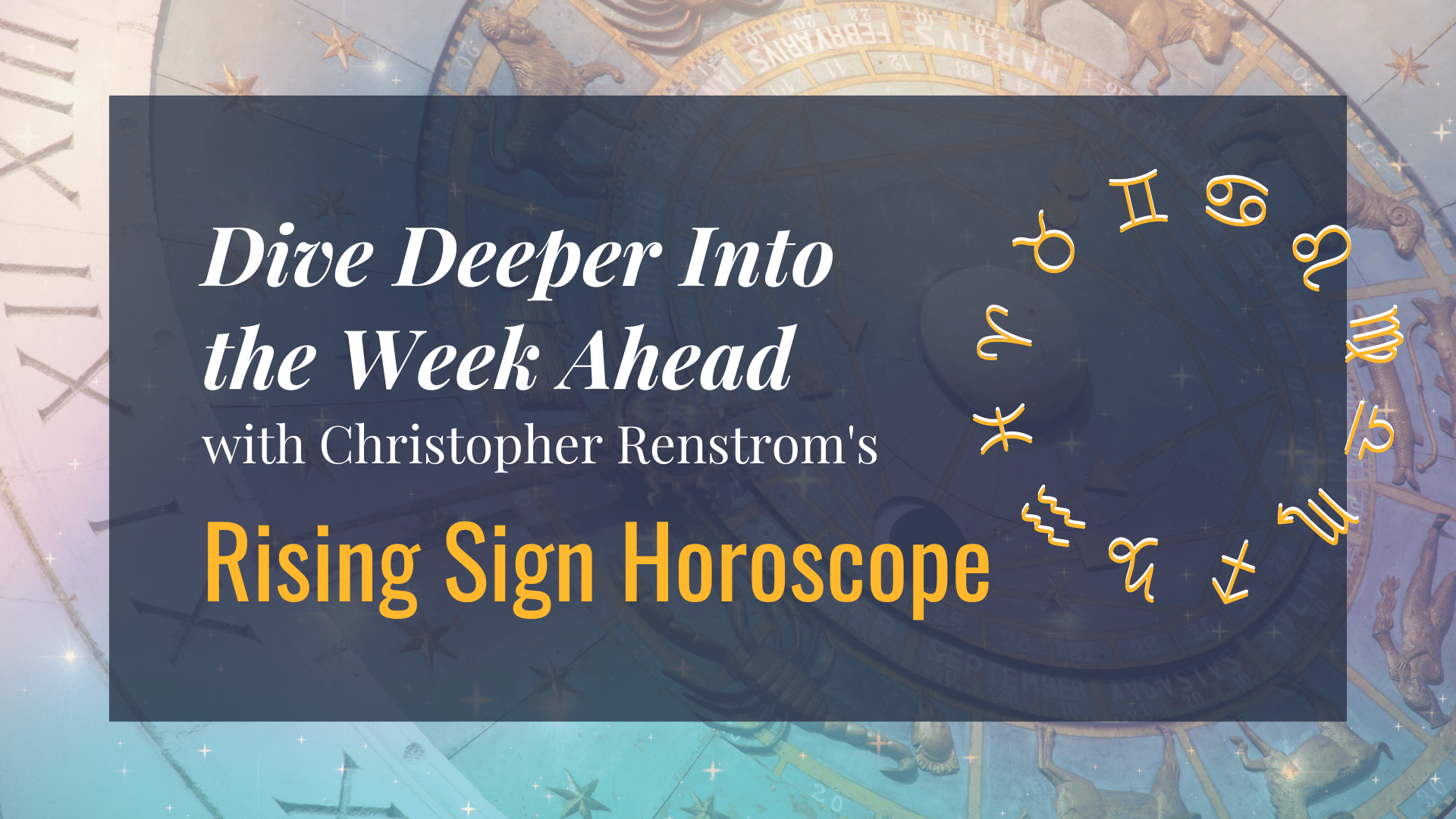 [WEEKLY ASTROLOGICAL WEATHER] with Cameron Allen

[HOROSCOPE HIGHLIGHTS] with Christopher Renstrom

[STAR SIGNS] with Jamie Magee

with Astrologer Georgia Stathis