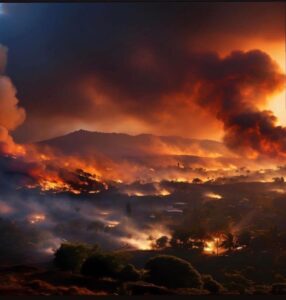 I'll start by assuring you that my daughters and I are safe and our home is intact. We did evacuate last Tuesday night because this is where we live: (see pic!)
Thankfully our home is ok, contaminated drinking water is the next concern, but we are alive and doing our best through it all.
However, as you've probably already heard, there are so many who cannot say the same. The losses are staggering and incomprehensible.
My heart is absolutely broken for this place… the people, pets, family homes, the history…
As I know many of you have experienced in crises like this, the community here is rallying in a huge way to support each other.
And the outpouring of love that I've received from THIS community, has literally taken my breath away.
Concerned texts from astrologers we work with and members of my team, posts in our private community for Inner Circle members, comments under YouTube videos and in Facebook, and emails coming in from all around the world.
All filled with care, kindness and concern… "Are you ok? How can I help?"…
THANK YOU for your love. The beauty of the human spirit is alive and palpable. And I am humbled and grateful for your presence in my life.
If you're one of the people who have asked how you can help, we're hosting a special fundraiser event this Thursday. Details can be found here.
One thing that's really come into focus for me, is that many people feel a very personal connection to Hawaii.
I read an article once that said, when asked, "If you could go anywhere in the world, where would you go?"
90% of people, around the globe, say Hawaii. And I've seen the love people hold for this place so many times…
One of my favorite things is watching people's faces when I first meet them and they ask me where I live…
When I say Maui, their face immediately softens, they usually smile and their eyes twinkle a bit as they travel back in time to a precious memory…
"I got married on Maui 30 years ago…"
"We took our honeymoon there and I've always wanted to go back…"
"My family went on vacation there when I was 12 and I completely fell in love…"
"I lived there for a few years in my 20s…"
"I've always wanted to go there…"
"It's my favorite place on the planet…"
It's my personal theory that the reason for this is because Hawaii holds the archetypal energy of PARADISE.
It's the Garden of Eden in our minds.
The world of beauty and harmony that we all yearn for somewhere deep inside.
There's a magic in the air from the minute you step off the plane that makes you want to put a flower in your hair and walk barefoot on the sand…
The veil between the seen and unseen feels thinner here…
And it has a feminine quality that most people are completely out of touch with in their daily reality (I know I was)…
So seeing it so devastated feels personal, whether you're affected directly by the flames or not.
And thankfully, as always, astrology is providing a lifeline for me through this time (and hopefully it is for you, too, if you're navigating challenging times right now)…
It's the reminders of the overarching astrological energies that help me keep one foot in the "bigger why," while keeping the other foot in the current reality and what needs to be done NOW.
This week, you'll hear Astrologer Andrea Michelle Kennedy talk about the "evolutionary intention of tension" on the Weekly Astrological Weather… if you're experiencing tension in your life, as we are here, what evolutionary impulse is this spurring in you?
And Christopher Renstrom discussing all of the Uranian energy in the air on Horoscope Highlights (Uranus = what we don't expect and the "molotov cocktail" thrown into your best-laid plans…)
And of course, we've been learning so much about Venus Retrograde (and retrogrades in general) and the invitation they give us to "re"-evaluate our lives…
Re-vive…
Re-spond…
Re-late…
Re-vision…
These words keep cycling around in my mind…
I'll leave you with a final thought before sending you off to explore the beautiful astrological content we have on offer for you this week.
While we drove away from our home, hoping that we would get to return, but not sure if we would…
I took stock of the few items we deemed important enough to throw in a bag as we raced out of the house:
The box of letters from family and friends that we've been gathering for years.
The art preserving my daughter's handprint in kindergarten.
The photos from my childhood that I haven't taken the time to make digital copies of.
The paintings my daughters have made me for special holidays.
The bracelet and necklace my mom recently gave me on my trip to California.
The nightgown my daughter has kept since she was a little girl, in hopes to pass along to her daughter someday…
Most of these things are tokens that have no real monetary value. And yet, they were what mattered to us most when we thought we could lose all of our physical possessions.
It was one of those moments where I was reminded of what really matters:
The people in our lives. The relationships we cultivate. The love we share.
Thank you for being one of those people in my life. I am grateful for our shared passion for astrology, the great honor of being in your inbox each week, and your presence in this community.
Now, please go hug the ones you love and give thanks for the preciousness of life.
Sending Love and Aloha,
Amanda
P.S. Maui is our Astrology Hub Headquarters. It's the landscape and place that has inspired so much of what we offer here, and obviously, it's my home as well. We're very motivated to help the recovery efforts and I know you may be too. I've been asking, "What can we do?" as a community, and this is what has come…
You're invited to our Dance.Pray.Donate. community event this Thursday, where we will be hosting a Donation-Based, Hula-Inspired Dance Vigil. We're opening this up to the larger Astrology Hub community (and any of your friends or family who want to support as well).
We will dance, pray, heal, send our mana (energy)… all while raising money for the recovery efforts. And please don't worry, if you don't want to dance (or don't feel like you can) you can still contribute! Just come and listen to the music, breathe, and feel the community.
I have selected several "boots on the ground," local organizations that I trust to make sure your donations go to the people who need it most. 100% of the proceeds for this event will be donated to them.
Click here to learn more and join Dance. Pray. Donate.

❤️‍🔥Monday, August 14th, Love unites with consciousness
Venus starts a new synodic cycle today, breathing life into the areas of love, relationships, safety and your values. This could bring awareness to limiting beliefs around what love should feel like or why you can't share your gifts with the collective. Today's a great day for intentions around these themes. 
🕳️Tuesday, August 15th, The feminine shadow
Today's energy can illuminate shadow energy such as expectations, manipulation, control, or not being empowered. These feelings are asking to be purged and released. By owning the shadow side of the feminine, you will discover and own more of your feminine power. 
🐺Wednesday, August 16th, Which wolf are you feeding?
Today's a good day to be aware that you have both light sides and dark sides within you. Which one are you feeding? It's important to become more conscious of which one your choices are feeding. Today's New Moon is a great time to set intentions for how you'd like to move forward with your shadow. 
🚪Thursday, August 17th, Liminal space
Today's energy could feel like you're not quite there yet, but also not quite gone from where you've come from. You're in the liminal space. You need to release what's no longer serving to get to the next level. Try not to take things personally and you'll find yourself with more freedom and control. 
🪢Friday, August 18th, Focus on the things you can control 
Today's energy brings a strong draw to stay cozy and in the state of potential. 
Be aware of any automatic assumptions or impulses for control that prevent you from new insights or a new perspective on reality. Try not to get stuck in mental chatter and worrying about things you can't control. 
🪞Saturday, August 19th, Look at yourself directly
Today's invitation is for more self-honesty. How do you view being confronted by something? What's your reaction? Think about where you are ready for more self-honesty in service to being truly empowered. 
⚡Sunday, August 20th, Acute tension
Today's energy brings more acute tension. You could be confronted with realities you don't particularly like. Remember that it's okay not to like things. You don't have to put a face on or be dishonest with yourself. Be honest with yourself to be more aligned with the path forward.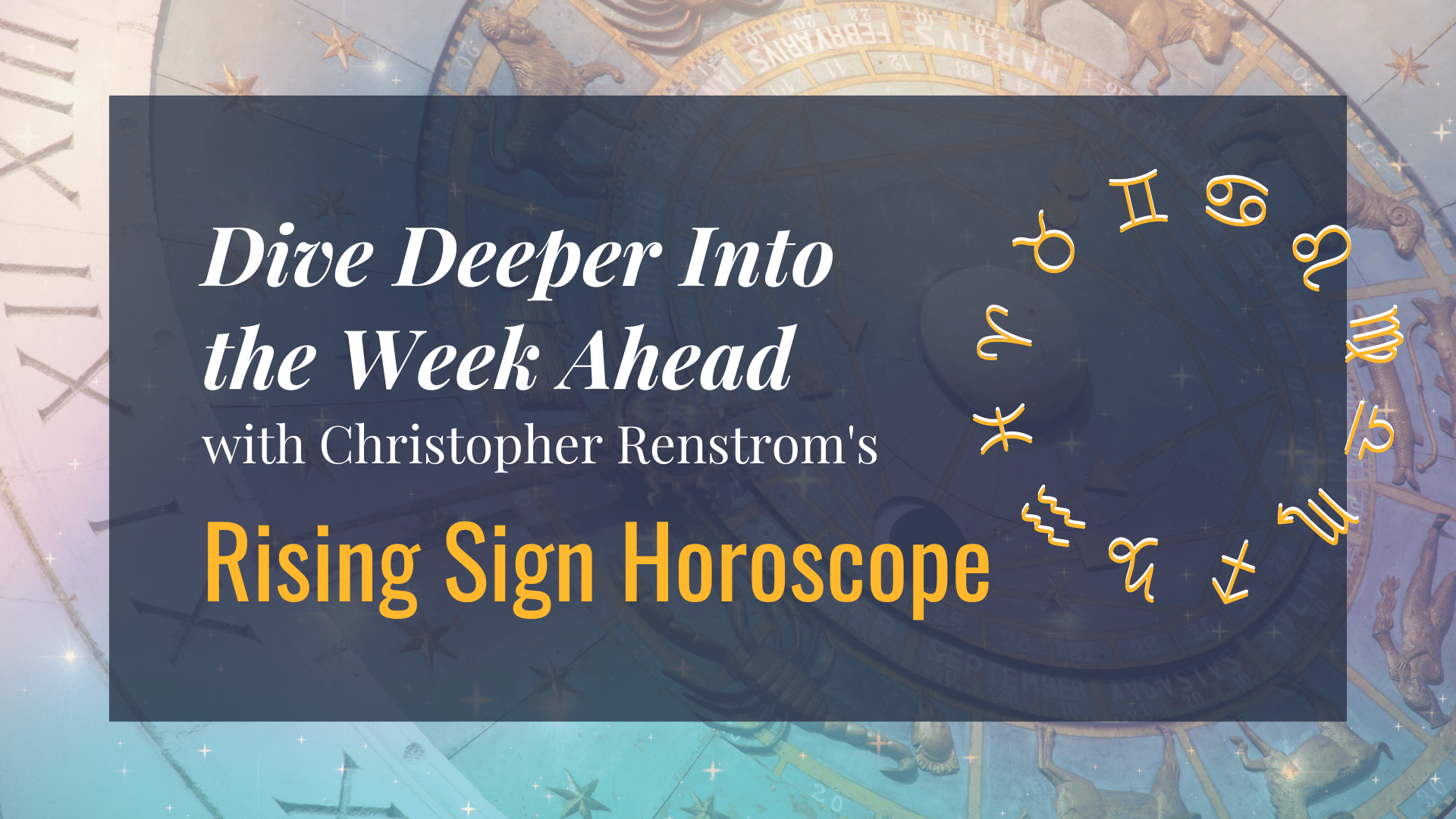 [WEEKLY ASTROLOGICAL WEATHER] with Astrologer Andrea Michelle

[HOROSCOPE HIGHLIGHTS] with Christopher Renstrom

[STAR SIGNS] with Jamie Magee

with Astrologer Gemini Brett