The destined meeting that changes your trajectory…

… a flash of creative insight that inspires your next big project…

That feeling of aliveness you haven't experienced in a very long time…

That's what's in store this week!

Harmonic astrologer, Clarissa Dolphin, says it's a "13th harmonic and Venus dominated week"…

What does this mean?

It means this week will offer singular, once in a lifetime, totally unique events…it will be an "aesthetic and romantic goldmine," and this is the kind of week where fated connections are likely.

So pay attention! Welcome surprises could literally change your life this week.

One of the things I love about our "hub" of astrologers is the different approaches they offer to help us understand how the movement of the stars and planets impact life on earth (and vice versa!)

Clarissa practices Vibrational or Harmonic Astrology, which is highly specialized and beautifully nuanced. With Harmonic Astrology you'll get a glimpse at the energetic frequency behind the events, people and material reality you experience on a day to day basis.

I've gained another layer of understanding of my personal chart thanks to Clarissa's expertise! And I know many in our community have as well.
"I love learning about my chart in harmonics and Clarissa is brilliant in her explanation of the natal chart! Clarissa covered so many questions that I needed answered!" – Renee

"She GOT me. It was incredible. I am so alive after my reading with Clarissa! ❤️ – Lucy

"Clarissa is definitely a great Astrologer for validation and direction." – Adam

You can get more guidance on this week from Clarissa here or pan out for a bigger perspective on the month of August from the Masterful Rick Levine here.

I hope these episodes are helpful in orienting you in time and space so you feel supported and capable of making informed decisions along your path.

It's going to be a great week… and I'm so happy to be on this cosmic ride with you!

Best,
Amanda

P.S. We're getting ready to open enrollment for a workshop series from 3 master astrologers that will blow you away! Georgia Stathis, Judith Hill and Mychal Bryan are joining forces to help you find health, wealth and fulfillment in your life… with the help of your astrological chart! More details coming soon, but make sure you're on the waitlist so you're first to know when enrollment opens!


⚡ Monday, August 7th: Tap into your personal power.
The energy today brings leadership, figureheads and authority to the forefront. You may be faced with needing to make a fast decision about how you need to be or act that moves things along. Tap into your personal power and lead yourself from the heart.
✨ Tuesday, August 8th: Gurus & Gangsters.
Today's energy is fast, busy and opposes what is regularly accepted. It's a good day to consider what you're truly committed to and focus on your purpose and what you were uniquely chosen to do. Don't be afraid to think outside of the box and do things according to how YOU want to execute them. This anti-mainstream energy could bring religious, spiritual or cult leaders into the news.
💐 Wednesday, August 9th: Exciting mysteries & relics of beauty
Today's energy is highly romantic, inspirised and full of welcome surprises. If you experience any aggravation today, allow it to move you into action. Today's a great day for projects, creative endeavors. It's possible for inspiration to come out of the blue, to shift your perspective, or for relics of beauty from the past to make themselves known.
​​🔮 Thursday, August 10th: Unique treasures.
There's a possibility for more pleasant surprises today. It's a good day to engage in one-of-a-kind artistic or creative endeavors. You have the opportunity today to honor unique treasures and relationships. Let today inspire you!
😶‍🌫️ Friday, August 11th: A revelatory & sensory experience.
Today could be a little emotionally nebulous, and you may find yourself asking, "Is this even real?" Don't feel forced to make any long term decisions today. Allow the inspirations and revelations of the week wash over you, but don't feel overwhelmed by it.
📝 Saturday, August 12th: Get out your task list.
Today's a good day to take all the inspirations and realizations from the week and put them to paper. This energy is very different from the rest of the week but is an opportunity to make things you encountered this week more palatable or accessible from an everyday perspective. Start a task list to bring things into reality. 
🌞 Sunday, August 13th: If you got it, flaunt it.
You may encounter some big personalities or characters today. Don't shy away from this energy, join them! It's a good day to be loud, bombastic, and strut your stuff. Express yourself and what inspires you.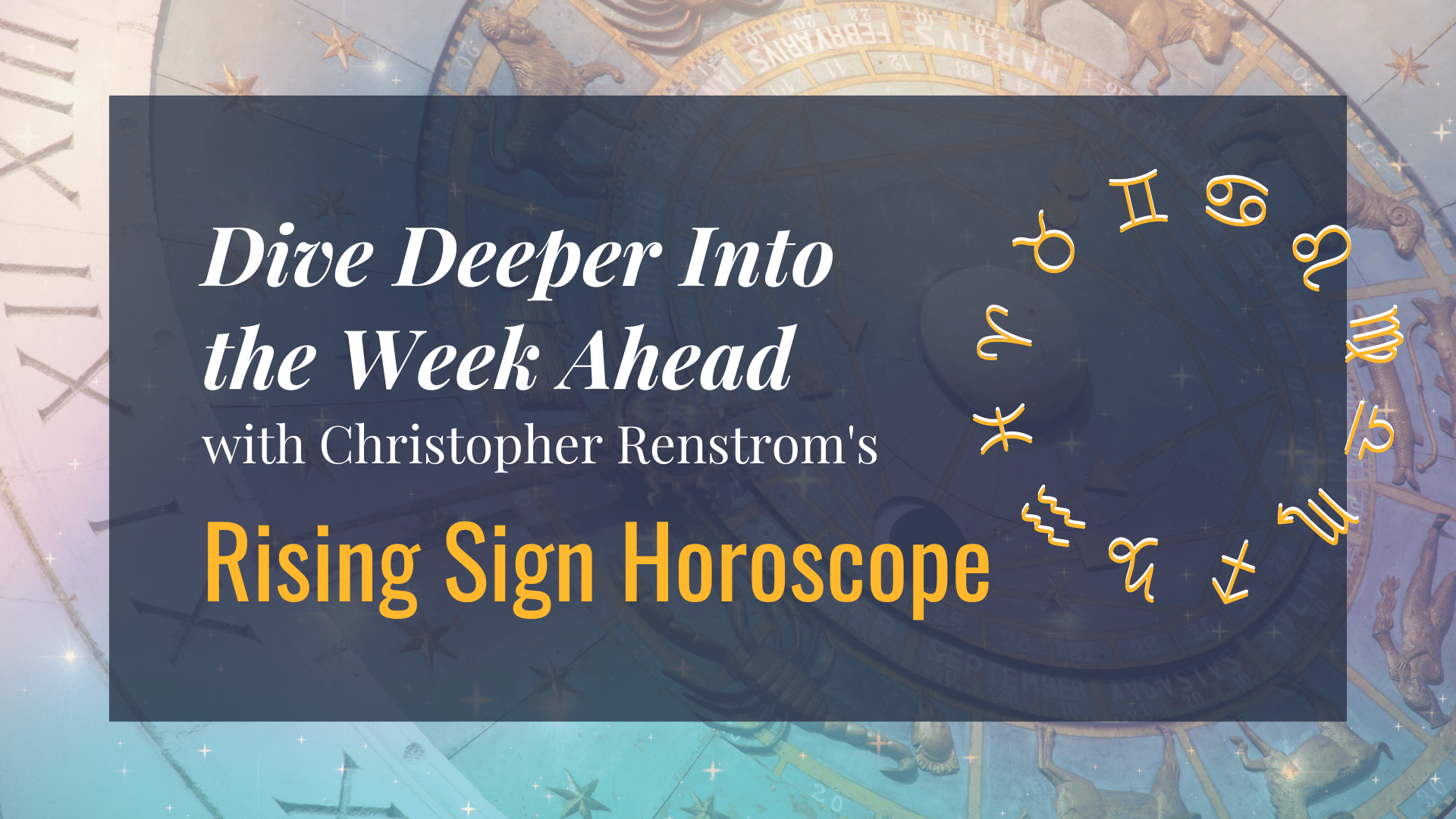 [WEEKLY ASTROLOGICAL WEATHER] with Clarissa Dolphin

[HOROSCOPE HIGHLIGHTS] with Christopher Renstrom

[STAR SIGNS] with Jamie Magee
with Rick Merlin Levine