Are you in love with the Moon? Do you want to work with the phases of the Moon more intimately on a daily basis? The best way to do that is using  Moon calendars to make planning with the Moon part of your daily routine.
The good news is there are more options than ever before available for astrologers and astrology lovers at every level. Whether you're just getting started or you're already using astrology daily, we have a Moon calendar that will help you work with the Moon at an even deeper level.
by Wicked Veracity

The Digital Astrology Calendar is the only Moon calendar that will integrate effortlessly with your favorite digital calendar platform and show you the eight phases of the Moon, when the Moon enters a new sign, eclipses, and when the Moon is void of course. It's just a bonus that it also shows when all of the other planets move into new signs and the aspects they're making to each other. Since it's in your digital calendar it'll show everything in your specific time zone. 
A Personalized Almanac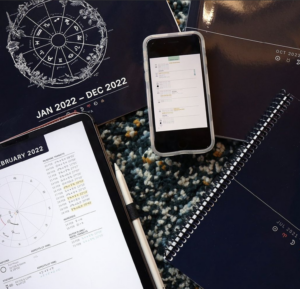 If you want a physical Moon calendar that not only tracks the lunar phases but also shows you the chart for each new and full Moon (and so much more!). The almanac from Honeycomb Collective is an excellent option for professional astrologers and students of astrology. You can choose a 6 or 12-month option that begins whenever you want and then customize it further as much or as little as you'd like. You can even choose the artwork you like best from artists that specialize in astrological art! The best part is they have a digital option for as little as $10 🤯
Their wall calendar is perfect for seeing all of the phases of the Moon at once along with your personal and general transits. It even has an ephemeris at top to make tracking the planet's movements that much easier.
Since both the almanac and calendar are customized not only for your natal chart but also your current location, all of the transits are listed in local time. 
Astrological Planner + Moon Phases Wall Calendar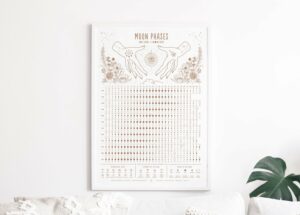 Magic of I offers a 2022 Moon Calendar for your wall that not only shows the daily Moon phases of the year at a glance, but also the sign the Moon is in and which lunations are eclipses. The calendar is available in three different time zones so no matter where in the world you are, there is an option that will work with your location.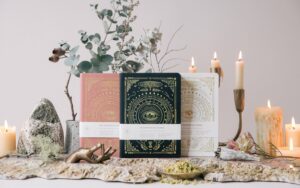 If you want something that offers more detail, their 2022 astrology planners have the Moon phases throughout the daily section as well as in the month at a glance. Part textbook, part workbook, and a feature-packed planner, this is a great option for beginner and intermediate students as well as professional astrologers. For a 10% discount across the store, enter the code: AHMAGIC
Moon Phase Guide & Moon Phase Chart
The best of Moon phase calendars to hang on your wall and see the full year at the glance was created by Julie Wilder at Spiral Spectrum.
While the company has many astrological year-at-a-glance wall calendars, the two Moon calendars are what we're going to focus on today.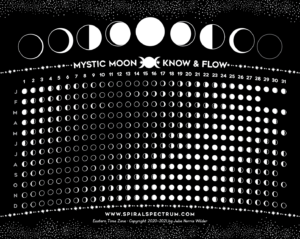 The Moon Phase Guide is the larger of the two at 11×14. It includes the 2022 Moon phases as well as a brief guide on working with each of the phases. The Moon Phase Chart is 8×10 and shows just the phases. Since they just launched options for UTC and AEST, these are great options for astrology lovers in Europe and Australia too. For 10% off enter the code: COSMIC
by Yasmin Boland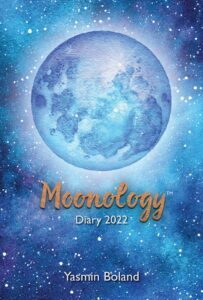 The best Moon calendar for working directly with the phases of the Moon and journaling about your practice every day is the Moonology Diary.
The 2022 Moonology Diary was created by astrologer Yasmin Boland. This lunar diary is filled with information to help guide you in working with each lunar cycle. It's part calendar and part workbook making it an ideal companion for manifesting with the Moon and tracking your lunar experiences daily.
Are you interested in learning more about astrology and how to work with Moon? Check out our
Astrology Academy
and our
Inner Circle Membership
.
---
Then you don't want to miss this incredible course, The Cosmic Calendar with Astrologer & Historian, Christopher Renstrom!
"I am utterly captivated by this series. I feel like I'm binge-watching my favorite TV series. I'm squeezing it into every opening in my day — in the school drop off line, in the shower, while I eat dinner…Thank you so much for this gem of a course. 🥰🙏"
-The Cosmic Calendar student, Jackie S
---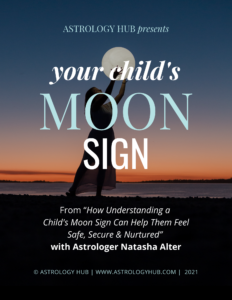 Get our guide to Your Child's Moon Sign
With this FREE PDF Guide, you'll learn how to help your child (or YOUR inner child!) feel safe & nurtured, by understanding the temperament, key attributes, and special gifts of each Moon Sign.
---