This is my favorite time of the month…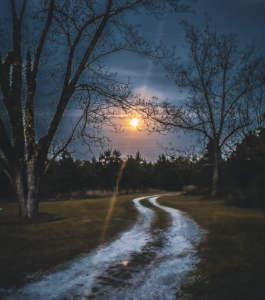 The Aquarius Full Moon is tomorrow, and inevitably members in our Inner Circle Community will start posting beautiful Full Moon photos from all over the world, like this one below from Christen May in Savannah, Georgia…
I love when these photos flood in because it reminds me that we're all connected under the same sky, and the same big bright moon, no matter where we are on the planet.
I find some of my most insightful moments come when I stand in wonder under a canopy of stars…

And there's nothing like the Full Moon to draw me outside under the night sky!

I had one of those moments recently at a summer gathering with my family.

My brother Patrick convinced us all to go outside and watch the Full Moon as she rose over the hills behind my parent's house (he has 5 planets in Aquarius and is in LOVE with the moon)!

So 16 of us brought chairs out onto the lawn and positioned ourselves under what Astrologer Gemini Brett loves to call, "the original motion picture" (aka the night sky) for the big event.

As we sat in anticipation, a hush fell over what was previously a loud and raucous evening…

All of us were quietly mesmerized as the light behind the hills grew brighter and the moon crested, revealing herself in all of her glory.

"I'm so glad we came out here," my mom whispered to me, reaching for my hand.

"Me too, mama," I replied, squeezing her hand back.

And just like that, we all felt a little more peaceful and a lot more connected.

As humans, we love to make things complicated. But feeling connected to the Cosmos (and each other) can be as simple as that.

Of course there are always layers we can unpack with each astrological transit, but sometimes the deepest insights come in those simple, quiet moments with the luminaries in the sky.

With that said, let's cover some of the nuances of this Aquarius Full Moon…

I've summarized some of my key takeaways, courtesy of weekly Weather guest, Elodie St. Onge-Aubut, Astrologer Jamie Magee and current Inner Circle Astrologer Joe G: 
Golden opportunities could be hidden in plain sight but you have to look for them this week

. Scan your environment… what opportunities are right in front of you?
Can you take a leap of faith and pursue an idea WITHOUT needing outside help or external approval?

Where are you allowing others' approval (or disapproval) to hold you back?
Watch your tendency to be overly critical of yourself and others this week

. Pay attention to the self-talk… is it helpful? Useful? How can you turn your criticism into something constructive?
What are you doing to "actualize your plans right now"?

It's a good time to make a plan and take concrete steps in the direction you're wanting to go.
You may feel like an outsider, questioning whether or not your gifts will be or could ever be received.

Remember a few weeks ago we talked about being "outliers"? Remember that outliers are the ones throughout history who have always moved things forward. Questioning the status quo and moving culture beyond it's comfort zone… maybe you're here to do just that!  

You can work with any or all of these ideas and questions throughout this week (and if you want more nuances of the energy this week, make sure you check out the free podcast episodes we've released, links are below).

Before I sign off, I'd love to make a little agreement with you (are you in 😉?)…

Over the next 3 days, take at least one moment to turn your head up toward the moon (if there's clouds, just use your imagination!)

When you do, imagine your family of astrology lovers from all over the globe doing the same thing…

And allow yourself a moment of connection.

Remember that you're not alone. You are a unique expression of the universe, and you're connected to all that is…

We are united in our humanity under that same big sky…

I promise to think of you when I do the same. 🌕💖🌕

I'm so happy our paths have crossed and I'm grateful for the opportunity to share in the magic of the universe, together.
Happy Full Moon!

With Love,
Amanda
Here's your week-ahead horoscope for all signs:
The Week Ahead
🌊 Monday, July 31st: Changes on the horizon. 
Today could feel like a crossroads moment. The energy of today could feel like changes are on the horizon. Try to positively engage with the change by taking a step back to see the bigger vision at play. 
🌕 Tuesday, August 1st: A Full Moon in Aquarius.
With the Full Moon in Aquarius today, the energy will be charged. You may be asking questions like: Where do I fit in? Does my passion fit into the bigger picture? Can I get validation from someone? You may be feeling hyper critical of yourself with Mercury in Virgo, so pay close attention to your inner monologue and give yourself grace. 
⚖️ Wednesday, August 2nd: Work vs. Play.
Today, you may meet some resistance in the balancing act between work and play. Consider if you are indulging too much in pleasure, or if you are working to actualize your desires.
​​🔮 Thursday, August 3rd: Intuition vs. Logic.
Today you'll be striving to find balance between what your intuition tells you versus what your rational mind tells you. Learn how to balance the two gifts together. This energy is romantic and creative but you could feel the tendency to seek perfection. Know this is not realistic! 
🐟 Friday, August 4th: Tap into your vision.
Today's energy is quiet, as we have the Moon still in Pisces before moving into Aries late in the day. Today's energy will have an ebb and flow to it. The doubt you experienced earlier in the week will start to be relieved and you'll regain confidence in your vision by the weekend.
💥 Saturday, August 5th: A productive & proactive day.
This weekend has supportive energy for concrete actions. Any realizations you had from the Full Moon on Tuesday will start to be actionable. What are you doing to actualize your plans right now? What steps are you taking? Make a plan. 
👁️ Sunday, August 6th: What's your big vision?
Today's energy supports looking at the bigger vision, your bigger plans for the future. The doubts you may have had in yourself, your plans or where you fit in the world will have subsided by now. Harness this big energy by fueling your plans for the future and start to take action.

[WEEKLY ASTROLOGICAL WEATHER] with Elodie St-Onge-Aubut

[HOROSCOPE HIGHLIGHTS] with Christopher Renstrom

[STAR SIGNS] with Jamie Magee

with Cindy De Wet Steyn