What is Astrological Magic w/ Jenn Zahrt
Listen here:

How to Cast Spells That Actually Work?
In this episode of the Astrology Hub Podcast, Amanda 'Pua' Walsh and Dr. Jenn Zhart talk about Astrological Magic, Talismans and Theurgy.
You'll learn …
🌑 What is Astrological Magic and how to start practicing it
🌒 The difference between good and bad magic
🌓 How Talismans work
🪄 Practical Astrological Magic with Jenn Zahrt, PhD is now open for enrollment!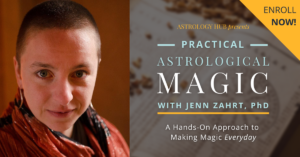 Join now and learn a Hands-On Approach to Making Magic Everyday
from a Master Magician at astrologyhub.com/magic