Chart Reading Extravaganza Part 2: Timing & Transits w/ Rick Levine
Have you ever wondered how astrologers can get a sneak peek into the future just by looking at a chart?
In this 4-week astrology class, Master Astrologer Rick 'Merlin' Levine will demonstrate forecasting and prediction LIVE. He'll show you how to use techniques like transits, progressions, solar return charts, and more by reading students' charts and giving interpretation explanations that you can bring to your own readings. In each session, you'll get to watch Rick give two live astrology chart readings, providing you with an in-depth, behind-the-scenes look at foundational chart timing techniques that you can then apply to read charts for yourself, your loved ones, and/or your clients. If you want to understand how a chart unfolds through time from a living legend in astrology, this class is for you!
**Astrology Foundation Level 1 & Level 2 and Chart Reading Extravaganza 1 are not mandatory prerequisites for attending this course but are highly recommended.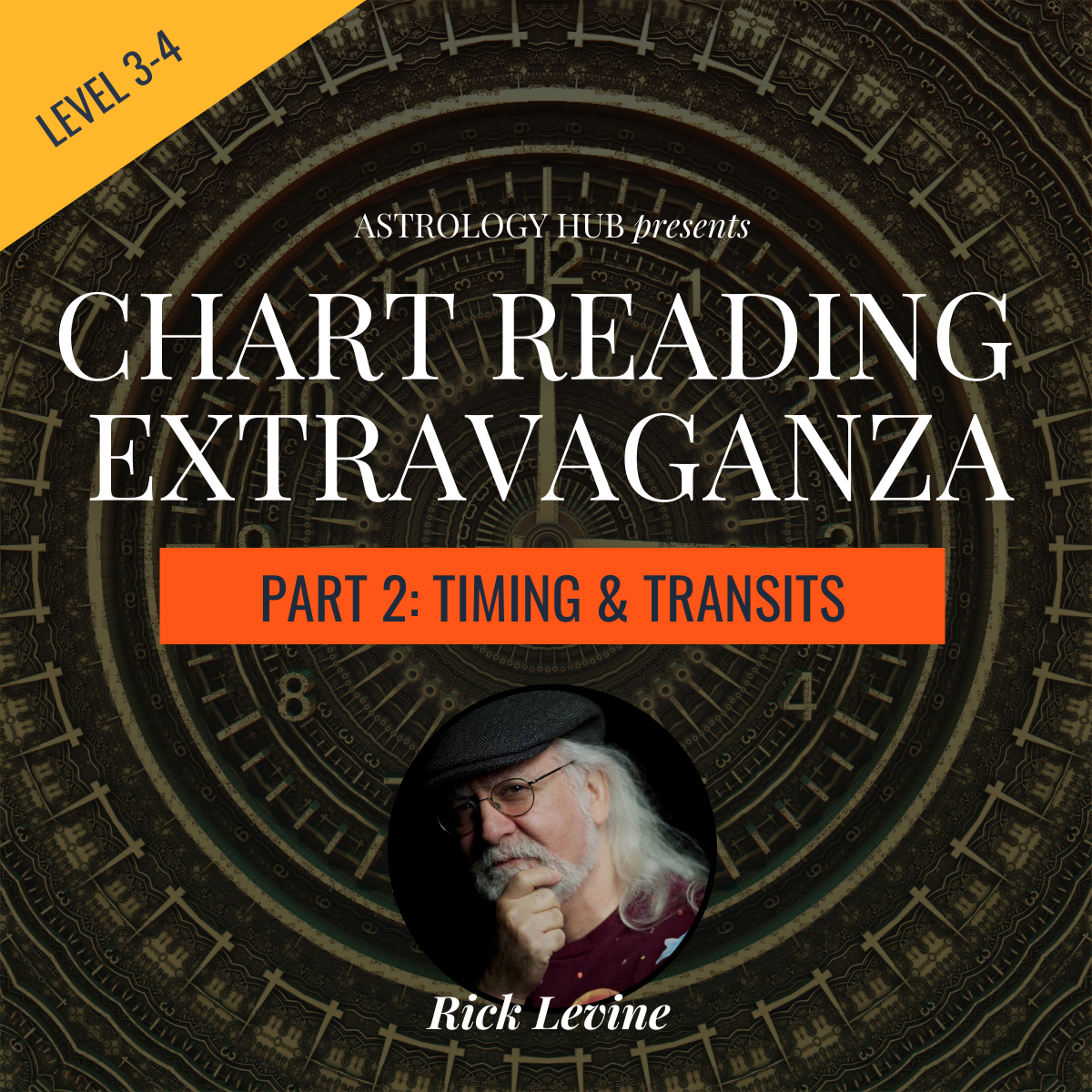 INSTRUCTORS: Rick Levine
DURATION: 8+ hours
FEATURES: 
• A Kick-Off Class from Master Astrologer Rick Levine on Timing Techniques like Transits, Solar Arcs, Progressions & More! ($47 value)
• 4 Live Chart Reading Practice Sessions focused on Timing Techniques with Master Astrologer Rick Levine ($97 value)
• Lifetime Access to the Recordings of the live sessions in Video, Audio & Transcript formats ($97 value)
• A BONUS Q&A with Rick ($47 value)
• A PDF Handout on Timing Techniques for quick reference ($17 value)
• A 20% discount on a Digital Astrology Calendar to add transits to your calendar of choice ($12 value)
• A whole month of practicing your chart reading skills under the guidance of Master Astrologer Rick Levine! (priceless!)
TOTAL VALUE: $317
RETAIL PRICE: $197
YOUR PRICE: $97
IC MEMBER (& RICK'S PATREON MEMBER) PRICE: $77
CURRICULUM:
4-weeks of live classes with 2 chart readings per session, each including:
A short technique introduction
Two in-depth, live chart reading demonstrations using student volunteer charts – with the student present and giving feedback
Interpretation explanations
Instructions for doing your own readings
Supplementary handouts to support your learning