Astrology Foundations Level 1 w/ Master Astrologer Rick Levine
A 5 Week Online Course on The Zodiac Signs, Planets, Houses, Aspect & The Astrological Chart.
This is the only time Rick is teaching his approach to Astrology in decades! Rick brings years of studies and experience, making this a one of a kind opportunity to learn from one of the leading Master Astrologers in the industry!
This self-paced, in depth course is great for both beginners and seasoned students who are looking for an unshakeable foundation in their Astrology study taught by a living legend.
IC Members – You get 20% off! Check your Membership Portal under Bonuses for the code.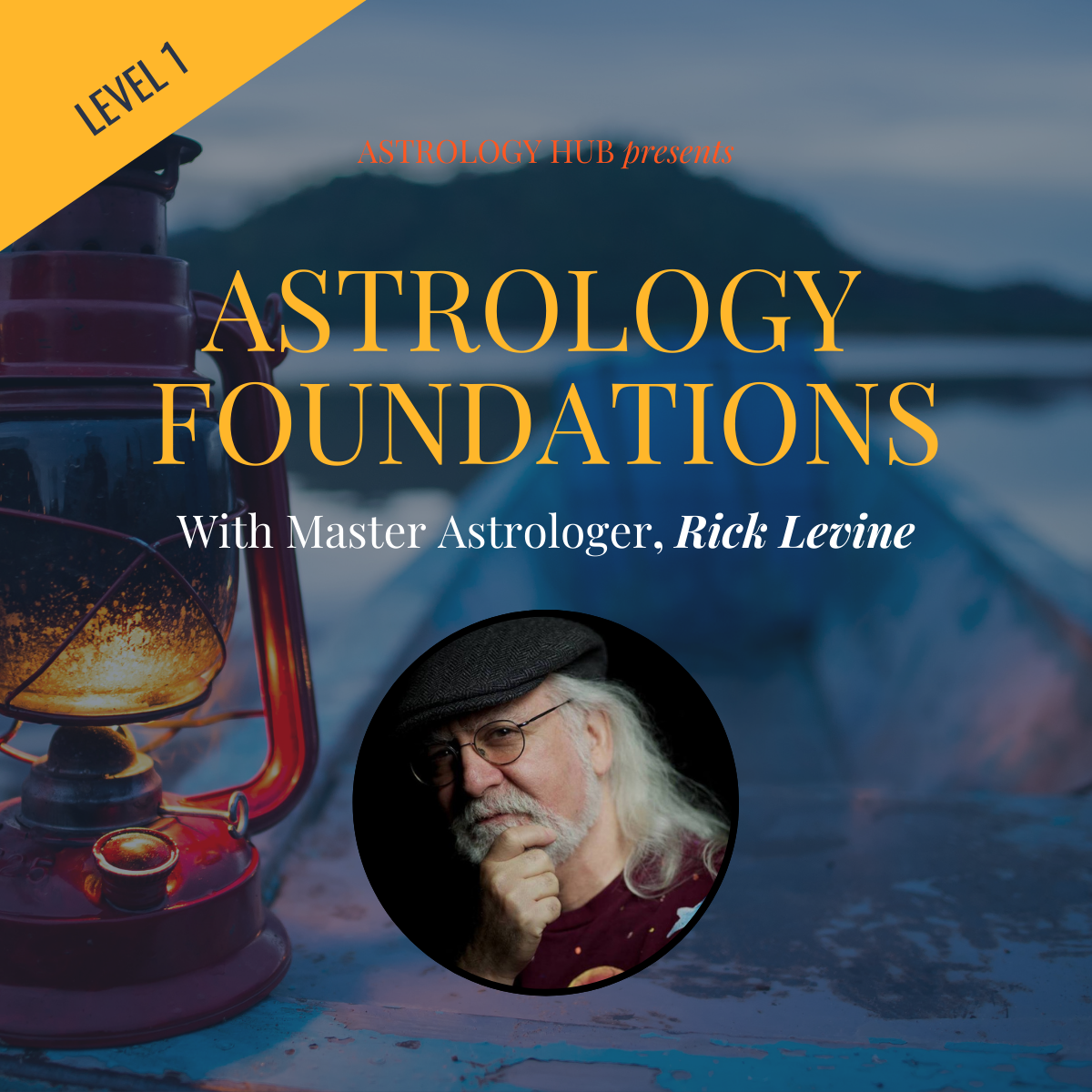 INSTRUCTORS: Rick Levine
DURATION: 5 Weeks Self Paced (10+ hours)
FEATURES: 
1. 10+ Hours of Teaching Delivered as 5 Modules over 5 Weeks
2. Video, Audio & Transcript Format
3. Reference Sheets for Each Module
4. Recorded Q&A each week for every module (5 total)
*All Live Q&A Sessions will be recorded and available in your Online Library
**BONUSES:**
1. 50% Coupon off Rick's Astrology of Relationships Workshop ($73 value)
2. Rick's Mastery Class on Quincunxes ($47 value)
3. A PDF Book of Rick's Top 24 Poems (priceless and not available anywhere else!)
CURRICULUM:
MODULE #1: The Zodiac: Starting with the Elements And Signs
Lesson #1: Fire
Lesson #2: Earth
Lesson #3: Air
Lesson #4: Water
Recorded Q&A
MODULE #2: The Planets: Where the Signs Come Alive
Lesson #1: The Luminaries (Sun and Moon)
Lesson #2: The Personal Planets (Mercury, Venus, & Mars)
Lesson #3: The Social Planets (Jupiter & Saturn)
Lesson #4: The Transpersonal Planets (Uranus, Neptune, & Pluto)
Recorded Q&A
MODULE #3: The Horoscope Chart: The Map of Astrology
Lesson #1: The Horoscope: Cycle of Experience
Lesson #2: The Houses: Where the Planets Play
Lesson #3: The Keys to the Map (Signs & Degrees)
Lesson #4: House Systems & Housekeeping
Recorded Q&A
MODULE #4: The Aspects: The Harmony of the Spheres
Lesson #1: Conjunctions, Squares, & Oppositions
Lesson #2: Trines & Sextiles
Lesson #3: Quincunxes & Non-Zodiacal Aspects
Lesson #4: Planetary Configurations
Recorded Q&A
MODULE #5: Putting It All Together
Lesson #1: Intro to Reading a Chart
Lesson #2: Intro to Transits (Timing is Everything)
Lesson #3: Intro to Mundane Astrology
Lesson #4: Taking The Next Step (Where do you go from here?)
Recorded Q&A
PLUS RECEIVE IMMEDIATE ACCESS TO THESE BONUSES!  1. Quincunx Mastery Class taught by Master Astrologer, Rick Levine ABOUT THIS MASTERY CLASS: Are you looking to move beyond the major aspects in your astrological practice? If so, this class is for you! In this class, Master Astrologer & Teacher Rick Levine will change your mind about the Quincunx being considered a minor aspect, and will show you just how powerful this aspect can be in someone's personality. This course will also give you an introduction to how harmonics relate to aspects, recommendations on orb size, how to work with Yods, and an overview of other non-zodiacal aspects that are often overlooked like Quintiles and Septiles. This course is sure to give you a new perspective and appreciation for the Quincunx.  2. 50% off Astrology of Relationships taught by Master Astrologer, Rick Levine ABOUT THIS WORKSHOP: In this in-depth workshop, you'll explore how astrology can improve your relationships and help you create more harmony with the people you love. You'll learn what to look for in your charts to find areas of compatibility, and potential relationship challenges, through synastry and composite techniques. You'll develop a deep understanding of how astrology impacts relationships between partners, friends, family members, and colleagues. 3. A PDF Book of Rick's Top 24 Astrologically Inspired Poems (priceless!!!)