We have a lot of active, physical, adrenaline-filled energy happening in the skies this week… 
It's dynamic and alive, giving us a boost of vitality. 
Wendy Stacy, our current Inner Circle astrologer and the guest on our Weekly Astrological Weather said it's a great time to focus on bringing things into form, doing things that are physically active…
And if you find yourself "defensive"… do your best to step back and pause before going on the "attack."
Wendy says it's also a great time to take stock of things in our life. Asking questions like, 
What is it that I have? 
Where am I now? 
Where am I going? 
What do we really want? 
I know as a company we have been doing a lot of "taking stock" lately! Really ourselves these questions… who are we? What are we uniquely designed to offer the world? How can we best serve you? 
Recently we asked our Podcast and YouTube listeners to provide their feedback so we can take stock of your experience of us too! 

I'm so grateful to everyone who already filled out the survey! I spent several hours pouring over every single comment and deeply appreciate your feedback, suggestions and support. 
It's not too late to contribute if there's anything you'd like to share. The survey takes 3-5 minutes and when you fill it out you also get the chance to win a free, 30 minute reading with one of our Astrologer Connect Astrologers! 
And just a reminder that we will be taking a break from our "regular programming" on the podcast in December. 

There will be some amazing "Special Holiday Edition" content for you, but our regular shows will be taking a break while we "take stock" before we move into 2024. 
In the meantime, we're celebrating Thanksgiving in the U.S. this Thursday…
I've lovingly re-named this holiday "Jupiter Day" because of its many, direct and obvious links to the benevolent and abundant planet, Jupiter (it's intriguing! Find out more in last year's Jupiter Day Article here! 😉).  
Plus, celebrating Jupiter makes it so we can ALL give thanks for the blessings in our lives with gratitude on this day, not just those of us in the U.S. 
You certainly top my list, it always gives me hope for humanity and for the planet my daughters (and ALL of our children!) will inherit someday that there are people like you out there…
Asking the bigger questions, curious about your unique gifts and talents and how those can benefit the whole, and committed to living your destiny… 
And I'm so very grateful that you have let us into your inbox and life in any way, to assist you on that journey in any way we can. 
With love and gratitude,
Amanda
P.S. I resisted this for years just because I didn't want Astrology Hub to be a part of the very loud NOISE that happens around Black Friday and "Cyber Monday"… but I've been convinced that some of you really appreciate the opportunity to get in on the best deals with your favorite brands! If we're one of those brands for you… you'll definitely want to keep your eye on your inbox in the next few days because we'll be offering "off the charts" deals and discounts for you! 

🌟 Monday, November 20th:
Navigating Challenges
Sun Mars sextile Pluto
You're starting the week with a burst of motivation! It's a day to tackle obstacles head-on, think of it as a cosmic obstacle course. Use this energy to push through any barriers and make significant progress.
📝 Tuesday, November 21st: Healing Words
Mercury trine Chiron
Mercury in Sagittarius trining Chiron in Aries brings a day for healing through communication. It's a perfect time for you to address unresolved issues or express your inner wounds through writing or conversation. Embrace the power of words to heal and resolve.
🔥 Wednesday, November 22nd: Energizing Shift
Sun moves into Sagittarius, Moon conjoins Neptune
Feel the energy lift as the Sun enters fiery Sagittarius. It's a day for optimism and looking forward. The Moon's conjunction with Neptune adds a touch of emotional depth and creativity. Let your spirit soar and your imagination run wild.
🌌 Thursday, November 23rd: Reflective Insights
Moon and Chiron Opposite Venus
Today, you're being invited to heal old wounds with others. Take this opportunity to do an inventory of things that take space in your life that you no longer need and can finally lay to rest. Balance this with nurturing of yourself, rest, and remember how special you are!
🏹 Friday, November 24th: Fiery Ambition
Mars moves into Sagittarius
Mars joins the Sun as it enters into Sagittarius, which brings a surge of enthusiastic energy. It's a day to embrace your adventurous side and take bold steps towards your goals. Channel this fiery energy into physical activities or pursuing new ventures!
🌙 Saturday, November 25th: Emotional Balance
Moon conjoins Jupiter, Mars square Saturn
A day of emotional richness as the Moon joins Jupiter. However, be mindful of not making mountains out of molehills. The Mars-Saturn square may bring some challenges, requiring patience and perseverance. You may feel like you have to defend your goals to nay-sayers, but remember to receive any guidance coming your way. Pause before responding and remember that you can take external guidance into consideration while staying true to what you know is best for you! 
🌟 Sunday, November 26th: Inventive Spirit
Ceres moves into Sagittarius, Moon conjoins Uranus in Taurus
The week ends on a high note with Ceres entering Sagittarius and the Moon's conjunction with Uranus. Money may be at the forefront of your thoughts, but expect a burst of innovative ideas and a desire to try something new. Write down all of the amazing ideas that come your way! It's also a great day for culinary adventures and embracing the unexpected.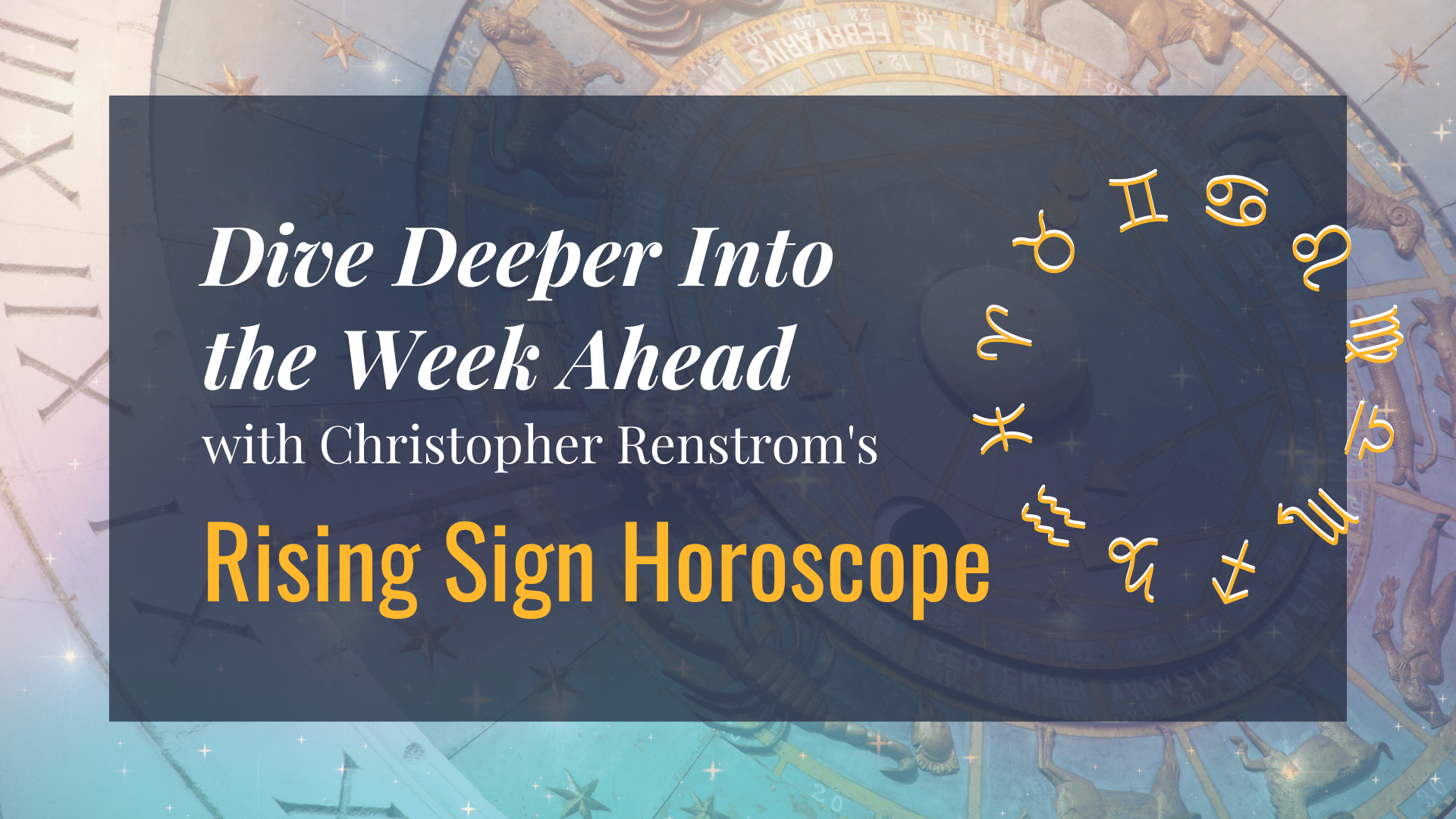 [WEEKLY ASTROLOGICAL WEATHER] with Astrologer Wendy Stacey

[HOROSCOPE HIGHLIGHTS] with Astrologer Christopher Renstrom
[STAR SIGNS] with Astrologer Jamie Magee

with Astrologers Gemini Brett & Rick Levine