This week we're celebrating the Astrology Hub Podcast reaching over 3 million downloads in over 60 countries around the world! 🎉 
This map shows the countries the Astrology Hub Podcast is reaching (in various shades of green):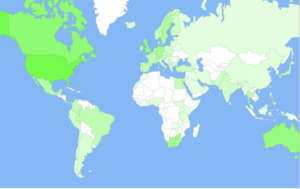 I am beyond grateful for every Astrologer who has contributed their genius, every Astrology Hub team member who has worked so hard to make our content available to you, and every single one of YOU for caring, sharing, and tuning in.
On the podcast, I often talk about something Astrologer Adam Gainsburg taught me… that the word DESIRE comes from the Latin word desidere, which means "of the stars."
I interpret this to mean that the deep, soulful desires in you, are literally written in the stars, and reflected by your astrological chart. 
And I can honestly say that Astrology Hub started with the purest, most soulful desire I have ever had. All I wanted was to share the gifts that astrology had bestowed upon me in the darkest of times, to others who may also benefit from the light and language of the stars.
So the question is… what's the deep desire in you that the world is ready to benefit from? 
While you consider this, I'd love to invite you into the celebration with a contest we are running to commemorate this milestone. 
You can enter for a chance to win some amazing prizes by submitting a review of the podcast on your favorite podcast player (Apple Podcasts, Spotify, or wherever you listen to podcasts).
Top prize: A free Mastery Class of your choice from our Academy ($47 value)
Second place: Your choice of the Character & Destiny or Essential Year Ahead Report ($37 value)
Third place: Your choice of the Character & Destiny or Essential Year Ahead Report ($37 value)
Share your favorite thing about the Podcast and how it has helped you navigate your life and deepen your understanding of astrology.
Submit your review by March 25th. And please be sure to leave a name so we can find you in our system. Winners will be contacted via email by March 28th.
Thank you for all that you do to help us shine astrology's light into the world. 
And for being a radiant ray of light yourself. 🌟
With love,
Amanda
CEO & Founder
P.S.  Tell us what you think! We'd love to hear your feedback on what you'd like to see from future courses, workshops and panels. Your insights are truly valuable and we look forward to incorporating YOUR DESIRES into future offerings! 
Please take 3 minutes to fill out this short survey and let us know what you'd love to learn about next. 
[WEEKLY WEATHER] with Scott Tejerian
Astrologer Scott Tejerian is back to talk about the ways Venus in Aquarius enables you to broaden your relational horizons and more!  Watch or listen here.

[HOROSCOPE HIGHLIGHTS] with Christopher Renstrom
This week, the Sun forms a sextile to Pluto, which may reconnect you with an inherent talent, gift, or flair from your past… Watch or listen here.
[STAR SIGNS] with Jamie Magee
Find out what energies Sun-Neptune conjunction will bring for your sign and how Mercury sextile Uranus can help you move forward. Watch or listen here.
🐠
Your
Pisces Season
Resources:
"They're not merely a dreamer, they live inside a dream…" 
– Supporting Your Pisces Child by Joe Santos

Read the article by Joe Santos
Want to show more love to your Pisces child? Or maybe YOU are a Pisces and want to learn how to better nurture yourself… we have some tips for you! Read the article here.
Need a little pick-me-up to help you groove with the cosmic waves? Check out this playlist lovingly curated by the AH Team and feel those Pisces vibes. Listen here.