"The imagination of human beings is what redeems us from our darkest hours"
-Acyuta-bhava, Nightlight Astrology
Are you ready for what 2022 has in store?
Our 2022 Forecast Panel is happening this week, and I'm on the edge of my seat looking forward to what our twelve (!!) featured astrologers have to say!
(If you're not registered yet, you can grab your free seat right here).
But in the meantime, I've been having a blast interviewing all of our favorite astrologers for our 2022 Prep Series…
And it's given me a lot to think about in terms of how to approach my goals and plan for the year.
Acyuta-bhava of Nightlight Astrology shared an amazing reminder when he said that although there is going to be a ton of fresh inspiration and energy to work with in the spring thanks to Jupiter in Neptune…
The work of 2022 is going to be focusing on one thing at a time.
After all, even though it seems like the most amazing breakthroughs happen all at once, what you don't see beneath the surface is the myriad tiny shifts and changes that led up to that.
What I'm gaining from all of our astrologers so far is that while 2022 will continue to rock our status quo…
It's an amazing year to look at your life (and our world) with fresh eyes and imagination, focus on your goals, and continue to work with the cosmos to create what you desire in the world.
I'm here for the challenge. And I'm so grateful to you for being here with me!
And if you want more insight on how to work with the astrology of 2022, register for your free spot in the 2022 Forecast Panel right here!
To creating new worlds,
Amanda
CEO & Founder
P.S. To celebrate the abundance and cornucopia of astrological wisdom, we have a FREE panel coming up – sign up for the 2022 Forecast Panel!
The panel is happening live on December 8th and 9th, 2021, and features brilliant astrologers like Acuyta Bava, Adam Sommer, Stormie Grace, Christopher Renstrom, Mychal Bryan, and more…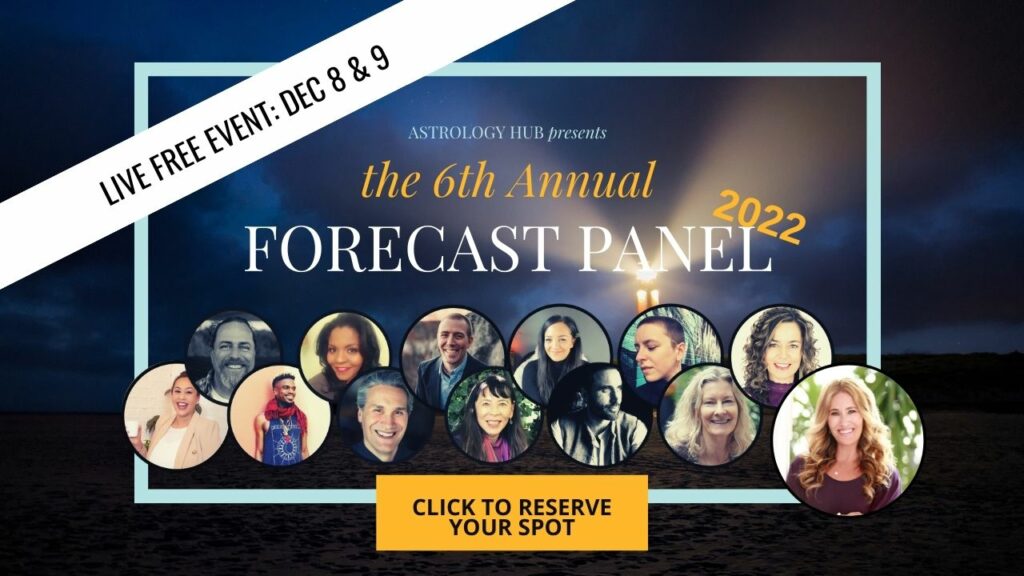 with Christopher Renstrom
This week, Mars in Scorpio forms a supportive sextile to Pluto in Capricorn, awakening your deepest inner truth and inviting you to confidently step into alignment. Watch or listen here.
[2022 PREP SERIES] with Acyuta-bhava
Find out how you can prepare for 2022 now by developing a spiritual practice that connects with your heart and soul. Watch or listen here.
[FRANK ANSWERS] with Frank Clifford
Discover the ways love and purpose can be revealed in astrology and how each Zodiac sign carries the signature of both.  Watch or listen here.
Need a little pick-me-up to help you groove with the cosmic waves?  Check out this playlist lovingly curated by the AH Team and feel those wild Sagittarius vibes. Listen here.