You know how a song can instantly transport you to another time and place?
Maybe your favorite song from childhood instantly brings you back to summers as a kid, or you can still hear the song that was playing during your first kiss…
Well, because music is such an incredible way to mark moments in time, and open our hearts…
When our Inner Circle Astrologers are teachers for a month, we have them choose music that accompanies the astrological energies.
So our students can not only learn about the astrology of the month, but also HEAR and EXPERIENCE the music of the spheres!
Because this has become a favorite of our Inner Circle members, we decided to give it to you as a Solstice gift from our hearts to yours…
You can access our 2021 curated playlist via Spotify here!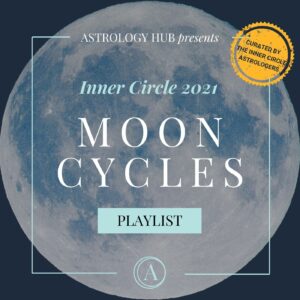 Below you'll find details on the complete tracklist, sorted by the lunar cycle, astrologer, and theme.
We hope this album of songs takes you on a journey of the astrology of 2021…
And keeps you connected to the special moments and bigger lessons you experienced all year.
Thank you for continuing to delight in the stars with us… we hope to continue sharing astrology and inspiring the unique song in your heart as we enter into 2022 and beyond.
With love,
Amanda
CEO & Founder
P.S. Simply click here to listen to the Inner Circle 2021 Moon Cycles playlist on Spotify!
Complete Tracklist:
the 2021 Inner Circle Playlist
Capricorn Moon Cycle w/ Frank Clifford:
Restructuring Your Inner & Outer Landscapes
Una Matina by Ludovico Einaudi 
Aquarius Moon Cycle w/ Monique Leurink:
Jumping Into The Age Of Aquarius
NEW MOON: A Sky Full Of Stars by Coldplay
FULL MOON: Tangaroa Whakamautai by Maisey Rika
Light and Shadow by Philip Wesley
Pisces Moon Cycle w/ Omari Martin:
Birthing the "I AM" Within
FULL MOON: You've Got A Friend (Libra full moon)
In love with a ghost by Flowers
Dreams by Nuages
Aries Moon Cycle w/ Georgia Stathis:
Managing Change: Peripheral Vision AT LAST!
FULL MOON: Brand New Day by Sting (Zodiacal New Year full moon illuminated the peripheral vision needed to make decisions)
Taurus Moon Cycle w/ Bronwyn Simmons:
Sacred Embodiment, Belonging, and Presence 
NEW MOON: Kinder by Copper Wimmin (acknowledging your sacred embodiment)
Gemini Moon Cycle w/ Cameron Allen:
Reorientation To Reality
NEW MOON: Scream by Michael & Janet Jackson (Mercury retrograde – music video has images about the media making you want to scream)
Dawn of the Forest by Takashi Kokubo
Cancer Moon Cycle w/ Tom Jacobs:
Becoming The Source Of Love For Yourself
One River by Benjy Wertheimer & John de Kadt
A Letter To My Younger Self by Ambar Lucid (Inner Child healing)
Leo Moon Cycle w/ Divine Harmony:
Leading From The Heart
NEW MOON: You are made of Sun by Kyau
Rise Like The Sun by Entheo
FULL MOON: One Day by Matisyahu (Aquarius Full Moon – coming together despite polarity)
Beginnings ft. East Forest by MC Yogi
Heart Chakra by Beautiful Chorus
Brave by Sara Bareilles (Brave like a lion for Leo)
Virgo Moon Cycle w/ Ari Moshe Wolfe:
Knowing Deep Inside
NEW MOON: La Promesa by Shimshai
I Enter This Moment by Ari Moshe Wolfe
Lunar Rainbow by Eskimotion
Infinite Possibilities by Ingmarlo
With My Own Two Hands by Ben Harper
FULL MOON: A Joyful Man by Mayestra (Reminder for accepting your darkness, intensity as this Full Moon in Pisces illuminated the need to accept that you are enough, you are worthy, you are magic and are a sacred being)
 Im Ata Ma'amin by Ari Moshe Wolfe
 Communication by The Flecktones
 Be Love by Tara Divina 
 Come by Shimshai
 Crazy Train by Ozzy Osbourne
Libra Moon Cycle w/ Judith Hill:
Active Balance & Cooperation
NEW MOON: Venus the Bringer of Peace by Gustav Holst (With New Moon conjunct Mars, Judith encouraged people to invite sweet Venus for balance)
Great Storm Clouds by Trevor Hall
FULL MOON:  You Don't Own Me by Leslie Gore
 I'm Sorry by Little Brenda Lee
 Wild Women Don't Get The Blues by Ida Cox
 Little Town Flirt by Del Shannon
 I Will Survive by Gloria Gaynor
 Walk Like A Man by The Four Seasons
 Don't Mess With Bill by The Marvelettes
 Nessun Dorma by Luciano Pavarotti
Scorpio Moon Cycle w/ Gemini Brett:
Grow Through What You Go Through
NEW MOON: Asaf Avidan – In A Box II
 ALBUM: Keith Jarrett – Eyes Of The Heart
ALBUM:  Joshua Redman Quartet – Moodswing
ALBUM:  KT Tunstall – Eye To The Telescope
 Tom Waits – The Heart Of Saturday Night
Sagittarius Moon Cycle w/ Amma Li Grace:
Trust In Change: Rites of Passage & New Frontiers
NEW MOON: Song of Life by Amber Lily 
[HOROSCOPE HIGHLIGHTS] with Christopher Renstrom
This week, Venus turns retrograde following a conjunction to Pluto, calling for transformation in your relationships and the untying of bonds that hold them together. Watch or listen here.
Need more music to help you groove with the cosmic waves? Check out this playlist lovingly curated by the AH Team and feel those Sagittarius season vibes.
If you're looking to show more love to your Sagittarius child
(or if YOU are a Sagittarius and want to dig deeper into your own needs and nurturing)
then we have the perfect article for you!