The 9 Best Astrology Apps of 2023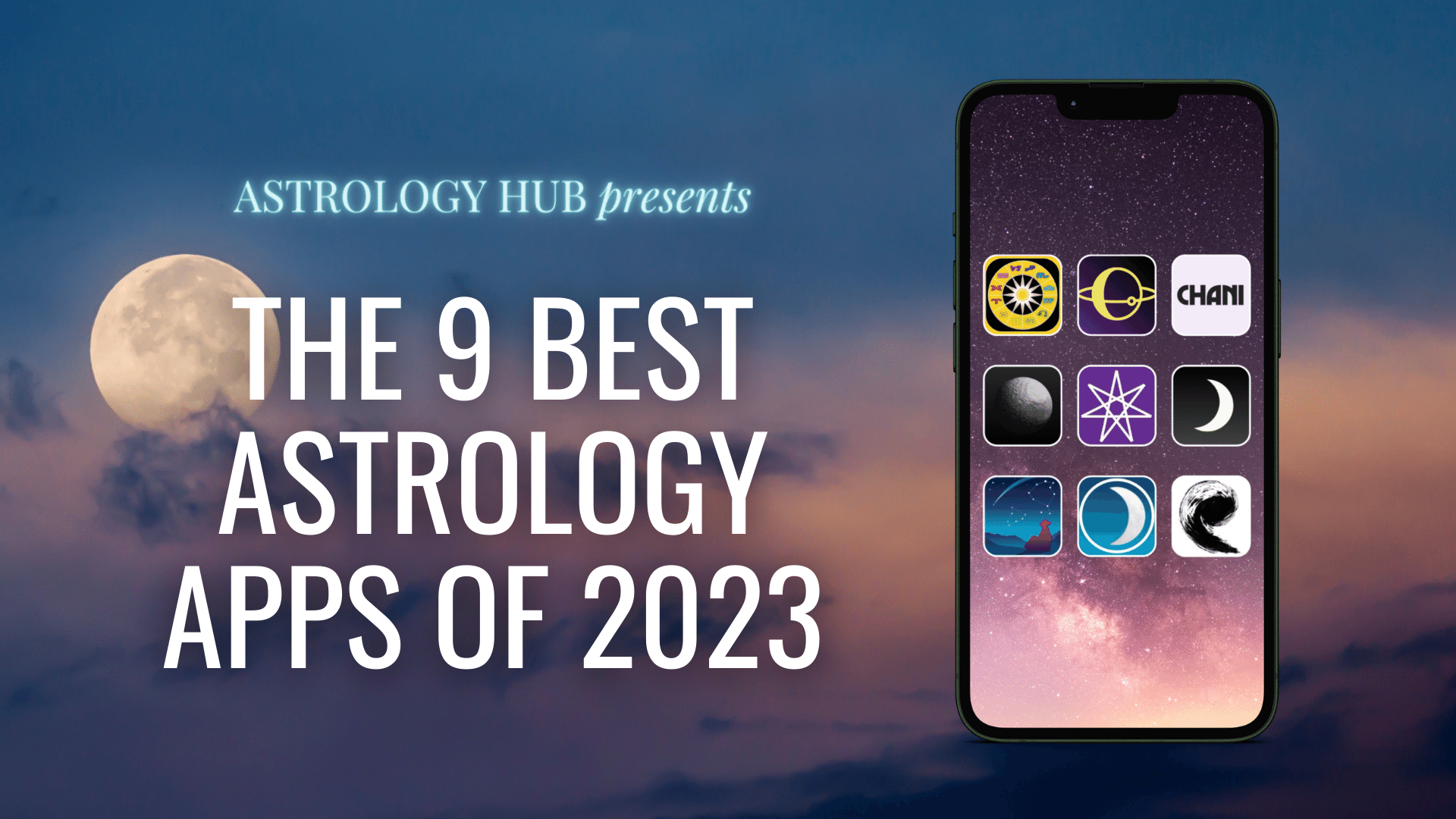 Regardless of your zodiac sign or how well you know your birth chart, having an excellent Astrology App at your fingertips can provide much-needed context and clarity to your everyday life. But with so many options available, which one should you choose? Read this guide to find out!
Key Takeaways
Astrology apps are a great way to infuse your life with a little cosmic insight, without needing to learn how to read the stars yourself.
There are apps for interests and knowledge levels ranging from "just curious" to "professional astrologers."
Apps for astrology can offer natal chart analysis, romantic guidance, daily meditations, upcoming astrological events, daily and monthly horoscopes, even altar suggestions!
The best app for you will vary depending on your needs. But whether you're looking for information about personality traits, horoscopes, week-ahead astrological forecasts, journal prompts, or natal and synastry charts — there's an app on this list for you!
When most people think of astrology, they think first about the daily horoscopes they read in the newspaper, usually a sentence or two meant to infuse a little insight into their daily lives, based on the sun sign (and sometimes the rising sign).
Those who are slightly more familiar with various aspects of astrology, tarot cards, and other methods of divination might imagine sitting down with an astrologer for a chart reading. But there's a whole world of possibility in between those extremes!
Astrology is having a surge of popularity right now, and new astrology apps with different features are emerging seemingly every day!
You can get horoscopes, detailed chart analysis, compatibility reports, moon phase calendars, new moon and full moon rituals, daily tarot card pulls, and more! But how do you know which app offers what you're looking for? Read this handy guide! We did all the research for you.
This guide includes apps for professional astrologers as well as the astro-curious. Apps that will help you analyze your birth chart, discover relationship compatibility, build your spiritual practice, and deliver your daily horoscope.
Below is a list of Astrology Hub's favorite astrology apps available for download in 2023, divided into apps for beginners and apps for advanced astrology students, both free and paid. Take a look and find your new astro bff:
Best Horoscope Apps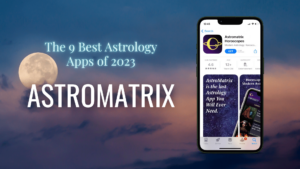 Astromatrix Horoscopes
App Store Rating: 4.6 stars
Price: Free
Upgrade: Yes, removes ads on a subscription basis ($9.99/6-months; $14.00/year)
Audience: All levels
Compatibility: iOS only
Astromatrix Horoscopes is free and easy to use, providing a variety of reports and chart options to help you better understand your birth chart, including your sun moon and rising signs and much, much more!
By storing your birth information, this app lets you easily find the personal transits that indicate opportunities for wealth, love life, career and personal growth. Astromatrix Horoscopes also offers in-depth analysis of love & romantic partner compatibility, past life reports, secondary progressions, solar and lunar returns, and more! It's a well-stocked resource for those looking to deepen their understanding of their own chart and use astrology to improve their lives!

CHANI
App Store Rating: 4.9 stars
Price: Free (with in app purchases)
Upgrade: Paid premium for $11.99 per month
Audience: All levels
Compatibility: iOS only
CHANI is a very popular app created by the astrologer Chani Nicholas, which offers daily horoscopes, week-ahead forecasts, moon phases, current transits and a birth chart summary. The paid premium version also includes mindfulness mediations, detailed birth chart analysis, weekly magic & manifestation resources, year-ahead forecasts and a library of guided meditations and affirmations. This app is perfect for the astrology lover who wants to work actively with the stars to manifest their best life!
Best for Relationship Compatibility

Co-Star Personalized Astrology
App Store Rating: 5 stars
Price: Free
Audience: All levels
Compatibility: iOS and Android
Co-Star Personalized Astrology is the first-ever astrology app powered by articificial intelligence that understands how people already connect over and talk about astrology. Featured in New York Times, Buzzfeed, i-D, Vanity Fair, Vice, New York Post, Refinery29, and more.
Features include planet-by planet compatibility, ability to store your friends' chart info, personality analysis based on your zodiac signs and horoscopes customized to your entire chart and real-time updates as the planets move! Overall this is a robust, social app for personalized astrological information that is easy to use and suitable for beginners.

The Pattern
App Store Rating: 3.9
Price: Free
Upgrade: $19.99 per 3 months
Audience: All levels
Compatibility: iOS & Android
The Pattern is one of the best astrology apps allowing users to connect socially with each other and compare birth charts for compatibility with friends and loved ones. Features include chart analysis, personal transits, a library of audio guides and episodes, world trends, friendship & romantic compatibility and even an astrological dating platform!
Of all the apps on this list, The Pattern is unique because of its social component, and functions the most like a social media platform that allows you to connect and compare charts with friends and community. This app is perfect for the social butterfly who is seeking astrological information to support them in building meaningful connections.
Best Advanced Astrology Apps

Time Passages
App Store Rating: 4.5 stars
Price: Free
Upgrade: Paid premium version for $29.99
Audience: Beginners and experienced astrologers
Compatibility: iOS app (one-time upgrade fee for Pro version) & Android (subscription only for Pro version)
Time Passages is an award-winning astrology program. The app offers a personalized astrology reading based on your birth chart, calculated by the app. Each day, you are provided with a daily horoscope using the day's transits. Additional features in the app cost $0.99 (for the free version).
The accuracy and detail provided by the app make it enjoyable for beginners and experienced astrologers. The regular version of the app is free, but you can update to the Pro version for $29.99 with additional features. The app makers claim Time Passages Pro to be the "most advanced app available," so if you're looking for detailed, accurate astrological information, this is a great option!

Hours
App Store Rating: 4.2 stars
Price: $4.99
Audience: Intermediate and experienced astrologers
Compatibility: iOS only
Hours is an app for calculating planetary hours according to the rules of traditional astrology. The app will calculate planetary hours for:
Your current location, defined by GPS.
Any of over 42,000 predefined locations around the world in the apps programmed database.
Any custom location you might want to define, specifying its latitude and longitude.
Hours allow you to select any date from January 1st, 1900. It also displays an extensive list of attributes for each planet.
"Planetary Strengths" was added in the latest version. Their importance was emphasized by 17th-century herbalists, as well as contemporary practitioners. This app is perfect for the astrological magician who is looking to enhance their practice with easily accessible information.

The Time Nomad
App Store Rating: 4.9 stars
Price: Free
Audience: Intermediate and experienced astrologers
Compatibility: iOS only
Time Nomad is one of the top astrology apps and our favorite free astrology app available on iPhone & iPad.
It's an advanced planetary positions calculator that ensures accurate birth chart calculations. The app can also build precise astrological charts for any given date within the nearest centuries. Its software is unique in its ability to calculate both tropical and sidereal zodiac systems (used in vedic astrology) using a high-precision ephemeris.
The app comes with a planetary hours calculator, planetary hours alarm, and other tools to work with planetary days of the week.
You can create an unlimited amount of personal astrological profiles. All data belongs to you and is stored on your phone or iCloud account. No login or registration is required.
With Time Nomad, you can analyze any number of natal charts — for yourself and other people.

iLuna
App Store Rating: 4.8 stars
Price: $2.99 a month
Audience: Beginners and intermediate astrologers
Compatibility: iOS only
iLuna is an interactive astrological calendar.
It allows you to easily tune into the moon calendar and find out the lunar phase, the Moon's position in the zodiac signs and lunar mansions, and a void-of-course period for any day from the year 2005 to the year 2050. It also provides a description for each phase, sign, and mansion. You can navigate through the information in various ways—say phase-by-phase, day-by-day, or month-by-month—whatever is more convenient for you.
iLuna uses the device's time zone on which it runs to calculate times, so if your iPhone or iPod touch shows your current time correctly, the app's information is precise too. The app will even send you a notification about specific events. This is perfect for the person who is seeking to attune to the lunar cycle and understand the zodiac signs and moon phases more intimately.

Astro Gold
App Store Rating: 4.1 Stars
Price: $39.99/iOS & $26.99/Android
Audience: Intermediate and experienced astrologers
Compatibility: iOS & Android
Astro Gold is a professional-level astrology-only app available for both iOS and Android. The app provides high-quality software on a mobile device. Along with precise calculations, it also proves professional astrological interpretations, and you can even use it to tune into your daily horoscope.
It features Natal, Transit, Progression, and Synastry interpretations, making astrology on the go even more accessible. It also allows you to store chart files on a cloud so you can access your data on other devices.

iPhemeris
App Store Rating: 4.7 Stars
Price: $18.99
Audience: Begining, Intermediate Students, Practicing Astrologers
Compatibility: iOS only
iPhemeris touts itself as one of the best astrology apps for iOS and, although that's a matter of personal preference, it's certainly robust enough to make a strong case.
The app includes Natal Charts, Transit Charts, Progressions, Relocation, Solar & Lunar Return, Relationship & Composite charts, mid-points, and a tabular Ephemeris and Calendars for 1700-2099 (extendable to 5000 years 2500 BC to 2500 AD). It has a "Sky Now" feature that continuously updates the chart of the sky for any location. A customizable ephemeris displays any time & place. iCloud backup and sync allow charts between all your Mac & iOS devices.
Let us know if you have experience with any of the apps above and what you think in the comment section below!
Use an app that we didn't mention? Let us know!
We always appreciate input from our community to keep us in the "know" about the latest and most significant developments in the world of Astrology.
Get your Horoscope sent to your inbox every Sunday