The Mastery Class Vault: Volume 2
If you're looking to cultivate a well-rounded astrology practice, look no further!
In this Inner Circle 2020 Mastery Class Vault bundle, you'll gain access to all 12 of the 2020 Mastery Classes from our Inner Circle Student Program. In this epic bundle, you'll learn many different techniques like relationship astrology, working with the Venus cycle, Astrolocality, Chart Reading, and understanding Eclipses. You'll learn this and SO much more when you unlock the 2020 Mastery Class Vault. The Vault gives you access to the entire 2020 Mastery Class collection, which includes many that are not available for individual sale. By purchasing these courses together, you'll receive over a 50% discount! With the 2020 Mastery Class Vault, you'll find yourself with endless insights and perspectives to explore, giving your astrological practice a well-rounded and inspired edge. 
Each course is taught by one of our trusted Inner Circle Master Astrologers.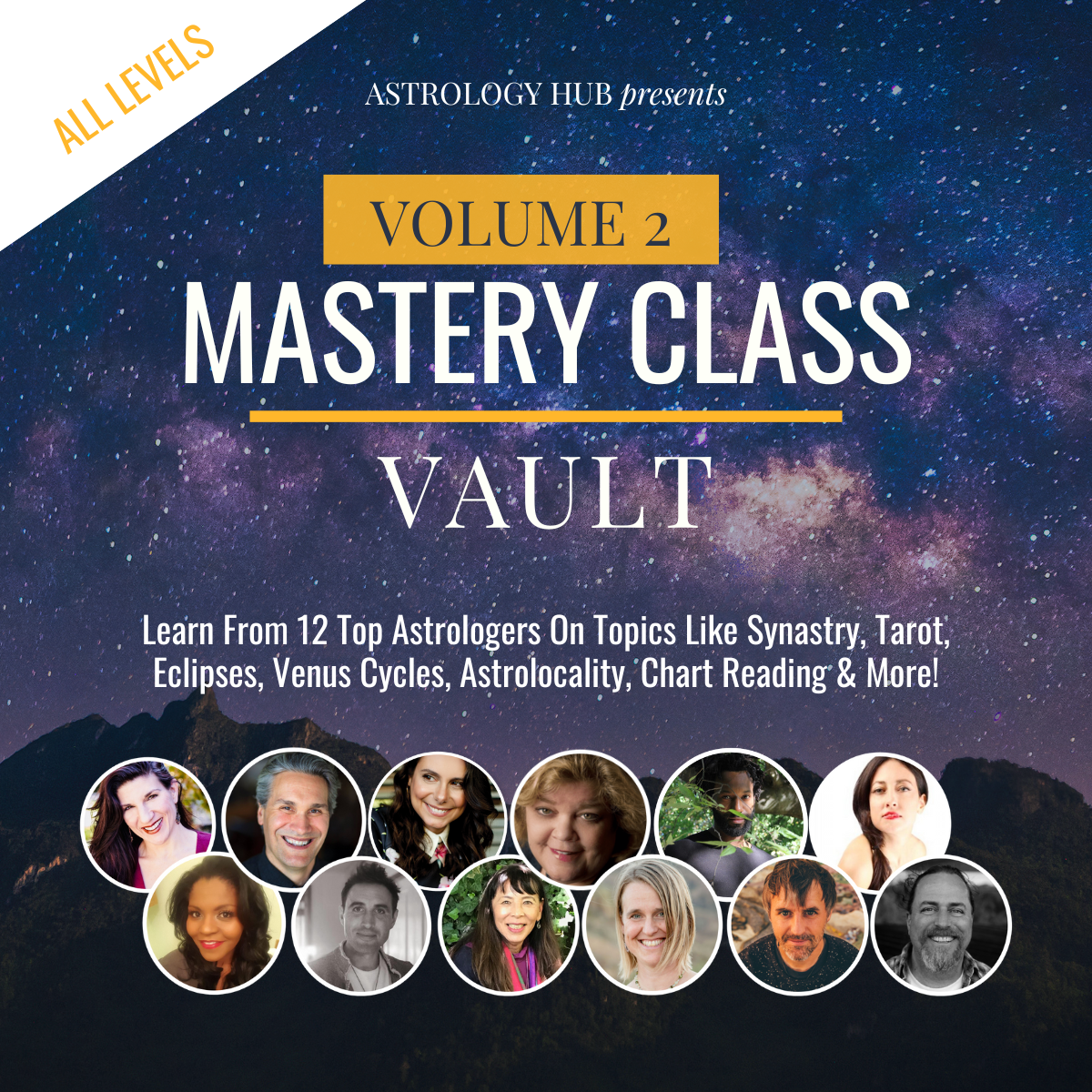 INSTRUCTORS: Anne Ortelee, Cameron Allen, Gemini Brett, Jennifer Racioppi, Sasha Benedetti, Sherene Vismaya, Stormie Grace, Tami Brunk
DURATION: over 20 hours of teachings
FEATURES: 
Video Classes, Pre-recorded Q&A sessions for each class, Audio Mp3 Downloads, PDF Transcripts, and Cliffs Notes for all 12 Mastery Classes from the 2020 Astrology Hub's Inner Circle program.
CURRICULUM:
Working With Jupiter Cycle: Embrace & Master Life's Lessons By Working With The "Ages of Jupiter"

— 

w/ Anne Ortelee

1.5-hour class w/ 1-hour Q&A

Health Secrets of the Planets: Mastering Health & Vitality By Working With The Elements, Planets, and Modalities

—

w/ Cameron Allen

2-hour class w/ 47-minute Q&A

Chiron: The Wound is Where God Enters: Unlocking Your Greatest Superpower with Chiron — w/ Sherene Vismaya

1.5-hour class w/ 55-minute Q&A

The Minor Arcana of the Tarot & The 36 Decans: Deepen Into Your Astrological Chart With The Tarot — w/ Gary Caton

1-hour 50-minute class w/ 1-hour, 15-minute Q&A

Syncing With The Venus Cycle: Working With Venus To Understand Your Heroine's Journey — w/ Sasha Benedetti

1-hour, 40-minute class w/ 1-hour, 15-minute Q&A

Philosophy & Techniques of Astrolocality (3 parts): Find Power Spots On Earth For Love, Career Success & More With Locational Astrology — w/ Gemini Brett

4.5-hour class w/ 1.5-hour Q&A
3+ hours of Bonus video content

Bringing Your Chart To Life: A Recipe For Chart Reading Made Easy — w/ Linda Kubota Byrd

1-hour, 50-minute class w/ 1-hour Q&A

Understanding the Hemispheres: How To Assess A Chart At First Glance — w/ Dr. Stormie Grace

1.5-hour class w/ 50-minute Q&A

Step Away From The 7th House: Techniques For Determining Relationship Compatibility — w/ Christopher Renstrom

1-hour, 40-minute class w/ 1-hour, 15-minute Q&A

Working With Eclipses: Eclipse Cycles & Working With Them In Your Chart — w/ Jennifer Racioppi

1-hour, 37-minute class w/ 1-hour Q&A

Composting Culture With The Cardinal Signs (2 parts): Understanding Your Role In The Evolution of Our World — w/ Tami Brunk

2.5-hour class w/ 1-hour, 10-minute Q&A

The Great Conjunction: Working With The 20-Year Cycle of Saturn and Jupiter — w/ Adam Sommer

1.5-hour class w/ 1-hour Q&A