Goddesses & Other Asteroids in Astrology w/ Anne Ortelee
Are you fascinated with the "Goddess Asteroids" and other Asteroids in Astrology? Do you want to learn more about their meaning and significance in your chart?
In this 2-part workshop with Predictive Astrologer Anne Ortelee, you'll explore the myths, magic, and power of the Goddesses and Asteroids in astrology. This workshop consists of two classes and two Q&As. Students of this workshop will also receive a PDF guide of keywords to help you dive in and understand where and how the Goddesses & Asteroids manifest in YOUR chart as well as instructions on how to locate asteroids in your chart using astro.com.
The Goddesses and Asteroids are rich and powerful examples of how these mythic archetypes manifest in your life. If you've wanted a deeper understanding of the feminine in astrology, or are seeking ways to expand your astrology with more celestial "players", this one-of-a-kind workshop is for you!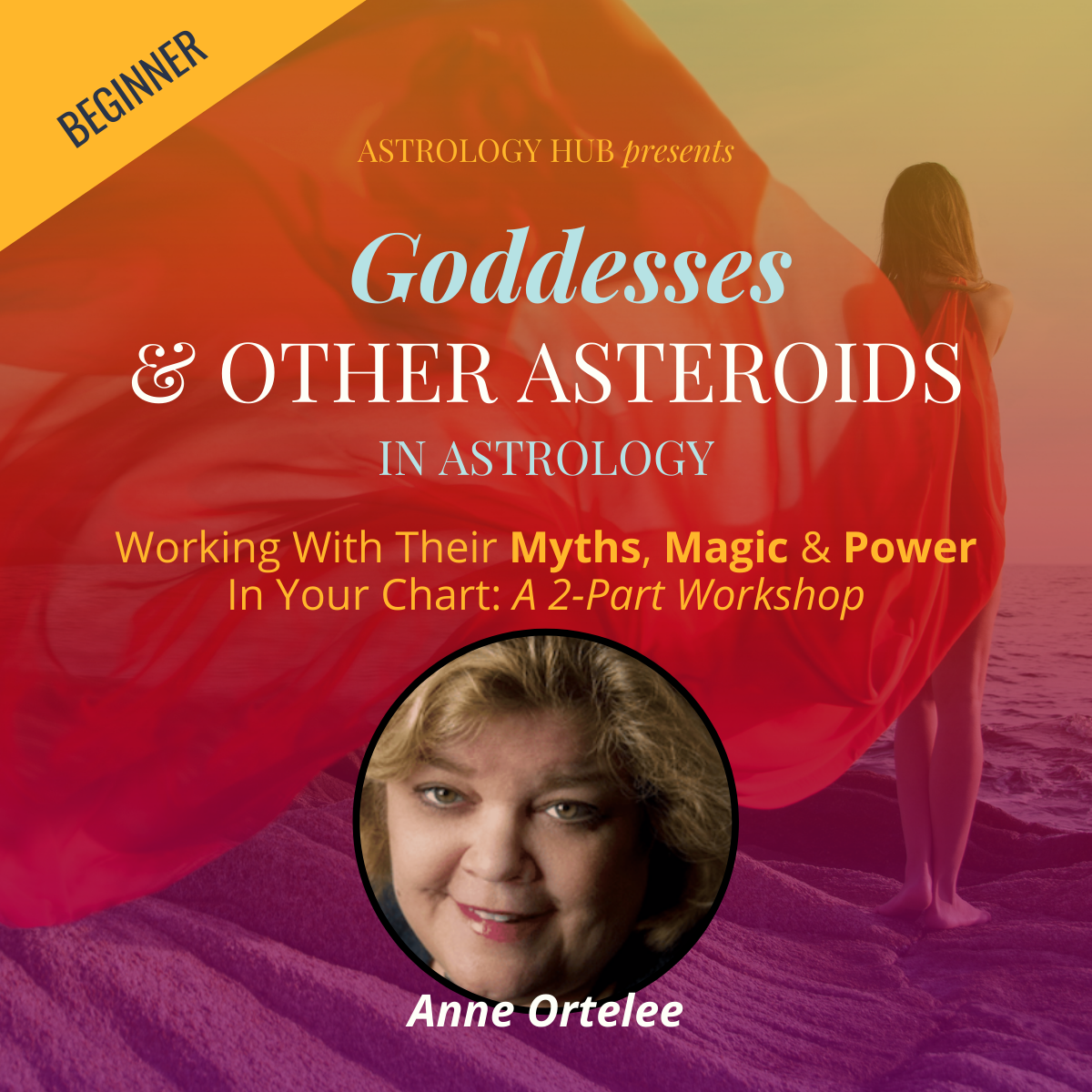 INSTRUCTORS: Anne Ortelee
DURATION: 6+ Hours (Broken into 4 Sessions)
FEATURES: 
• Two 120-Minute workshops with Anne Ortelee on September 9th & 16th @12 pm PT/ 3 pm ET
• Two 60-minute Q&A sessions with the chance to get your questions answered on September 13th & 20th @12 pm PT/ 3pm ET
• Lifetime Access to the Recording of the live events in Video, Audio & Transcript formats.
**BONUSES:**
• The complete Slide Deck in PDF format.
• A PDF guide to keywords to help you understand how the Goddesses & Asteroids manifest in your life.
• A PDF guide to help you locate asteroids for free using astro.com
YOUR PRICE TODAY: $197
CURRICULUM:
The mythology and discovery of the Asteroid Goddesses: Juno, Vesta, Ceres, and Pallas.

How the Asteroid Goddesses express in your Astrology Chart.

Ways to work with and understand the invitation of the Asteroid Goddesses.

A dive into other Asteroids that may not be as well known and the mythology and energy they bring to your chart.
CLICK HERE FOR TWO PAYMENT OPTION