Maximize your Finances According to Your Rising Sign
Astrologer Georgia Stathis & Amanda Walsh discuss the best ways to budget by looking at your natal chart.
On Today's Episode You'll learn…
🌑 How to identify and understand your financial goals, emphasizing the importance of having clear objectives to create a realistic budget.
🌒 The process of creating a spending plan by tracking expenses, prioritizing needs over wants, and making necessary adjustments to stay on track.
🌓 About various tools and strategies to make budgeting more manageable, including using budgeting apps, setting reminders, and regularly reviewing and adjusting the budget.
🪙 Download your FREE budgeting guide: https://astrologyhub.com/budget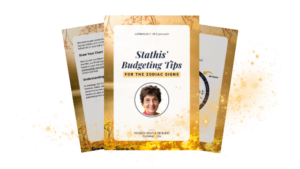 🌟 3 Weeks. 3 Legends. 3 Chart Reading Techniques for Unlocking Your Highest Potential.
In this workshop series, you will experience 3-weeks of back-to-back workshops including a 2 hour teaching and 90 minute live Q&A, focused on chart reading techniques that will help you overcome financial roadblocks, optimize your health, and find more fulfillment in your life.
You'll also get to learn from 3 legendary teachers who have over 100 years of collective experience!
And you have the opportunity to custom tailor this experience for you and your unique needs… Learn more at astrologyhub.com/workshop