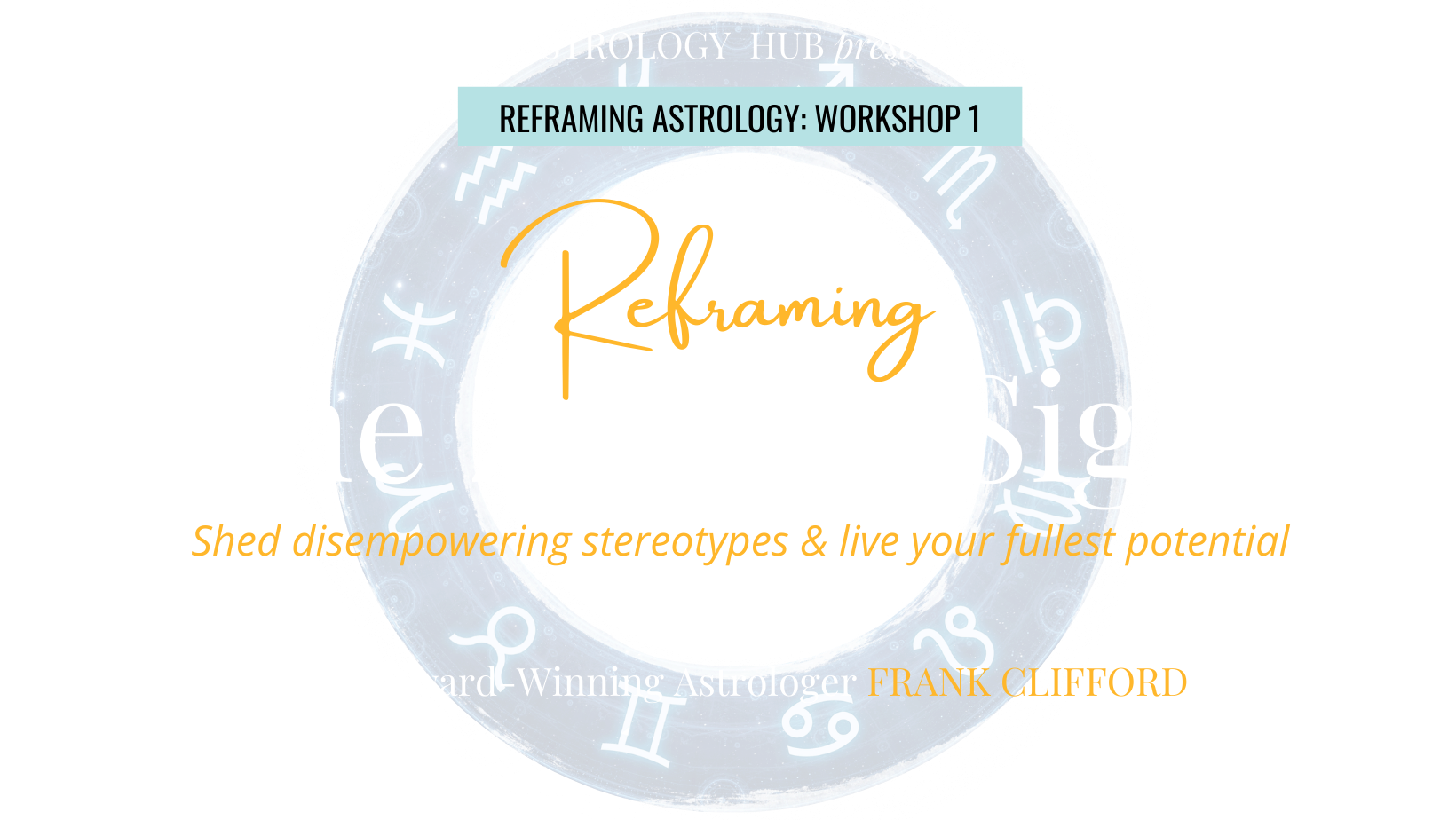 Join us for REFRAMING ASTROLOGY:
Reframing The Zodiac Signs!

Have you ever felt shamed or discouraged when learning about your Sun sign? Maybe you've heard things like:
"Aries is stubborn, hot headed and impulsive…"
"Gemini is air headed, flaky and two faced..."
"Scorpio is brooding, secretive and manipulative..."
"Capricorn is cold, rigid and controlling..."
The list is endless! But the truth is, while the tendencies for these qualities may exist, there are many facets to every zodiac sign and a vast range of expression for each energy.
And the best part is... you have a CHOICE when it comes to how YOU want to show up. And knowing what your potential is can help you live up to it!
In this 2 hour workshop with Q&A, you'll learn:
Frank Clifford's empowering approach to the zodiac.
How to fully embrace and live the beauty of your sign.
How important your Sun sign is for understanding your personal journey.
And how to make choices that make your heart sing in your relationships, career, health, family and more!
Frank will also help you:
Understand how your chart describes

what you are here to experience

in order to become who you were

born to be

.

Address the inherent

challenge of fully expressing your Sun sign

rather than getting stuck in lower frequencies. 

Uncover what you need to feel

truly fulfilled

, what

motivates you on a deep level

, and

your unique approach to life

using

the elements and modes.
Are you ready to shed disempowering beliefs and step into a new view of yourself that honors you truly are? 
Join the Reframing the Zodiac Signs workshop!
PRICE: $47
IC Member Price: $37 (check your membership for the IC coupon)
"Brilliant astrology. Thank you Frank. You are so very empowering - how wonderful to hear you talking about how to navigate and negotiate the ripples, eddies and flows of challenging times. You reminded me to be kind to myself. Xoxo" -Bridie C
"Frank's take is so enlightening and encouraging. Honestly, my jaw hit the floor at the accuracy... He got to the heart. Excellent insights from Frank, thanks for such a great resource."
-Judy E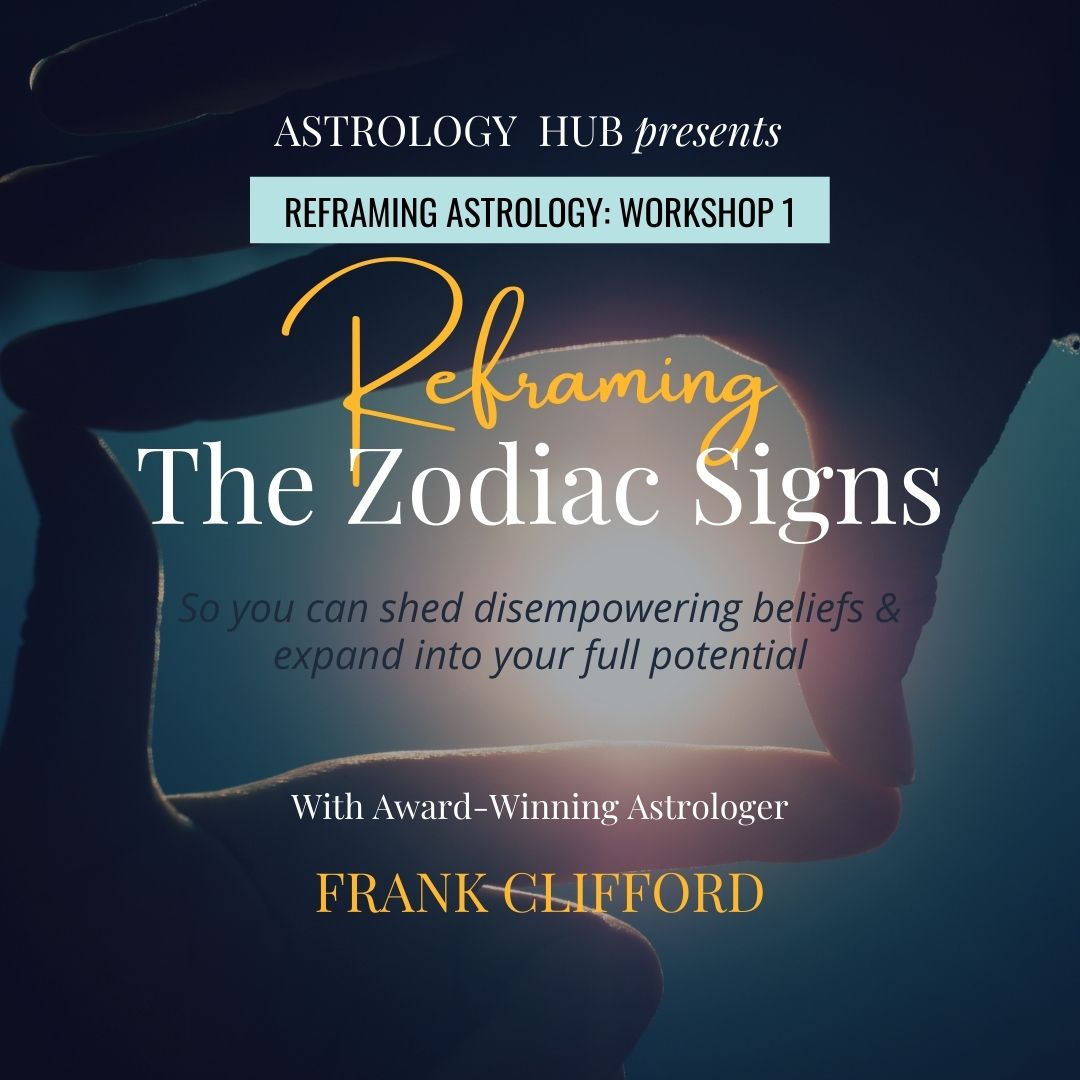 If you can't make the live event, no worries! The recording will be made available within 24 hours and you'll get lifetime access to the workshop to revisit at your own pace!
Access to the

2-Hour Workshop ($47 value)

The recorded

30-Minute Q&A

session at the end of the workshop

($17 value)
Lifetime Access

to the

Recordings

 in

Video, Audio & Transcript

formats

($47 value)

The complete

Slide Deck

in PDF format

($17 value)
A PDF Handout

with summaries of the teachings for quick reference

($17 value)
A whole
new perspective
on your Zodiac Sign that will feel refreshing, affirming and empowering (Priceless!)
TOTAL VALUE: $145
YOUR PRICE TODAY: $47
ABOUT YOUR TEACHER
AWARD WINNING ASTROLOGER
FRANK CLIFFORD
An independent, creative force in the astrological community for over 30 years, Frank Clifford has built an eclectic career in astrology, palmistry and publishing. He has written a dozen books (including his book Getting to the Heart of Your Chart) been a Sun sign columnist, a consultant for clients and businesses, a researcher/compiler of birth data, and a publisher of over 35 publications.
He regularly writes for various magazines and guest edits The Mountain Astrologer. Frank lectures all over the world and runs online courses with the popular London School of Astrology, which has branches in China (New Moon) and Japan (ARI/LSA Japan).
Back in 2012, at age 39, Frank became the 13th and youngest recipient of a Lifetime Achievement Honor, The Charles Harvey Award, for Exceptional Service to Astrology. Past winners include Liz Greene and Robert Hand. In 2016, Frank received a writing award from ISAR and two years later was honored with a Regulus Award nomination for Enhancing Astrology's Professional Image.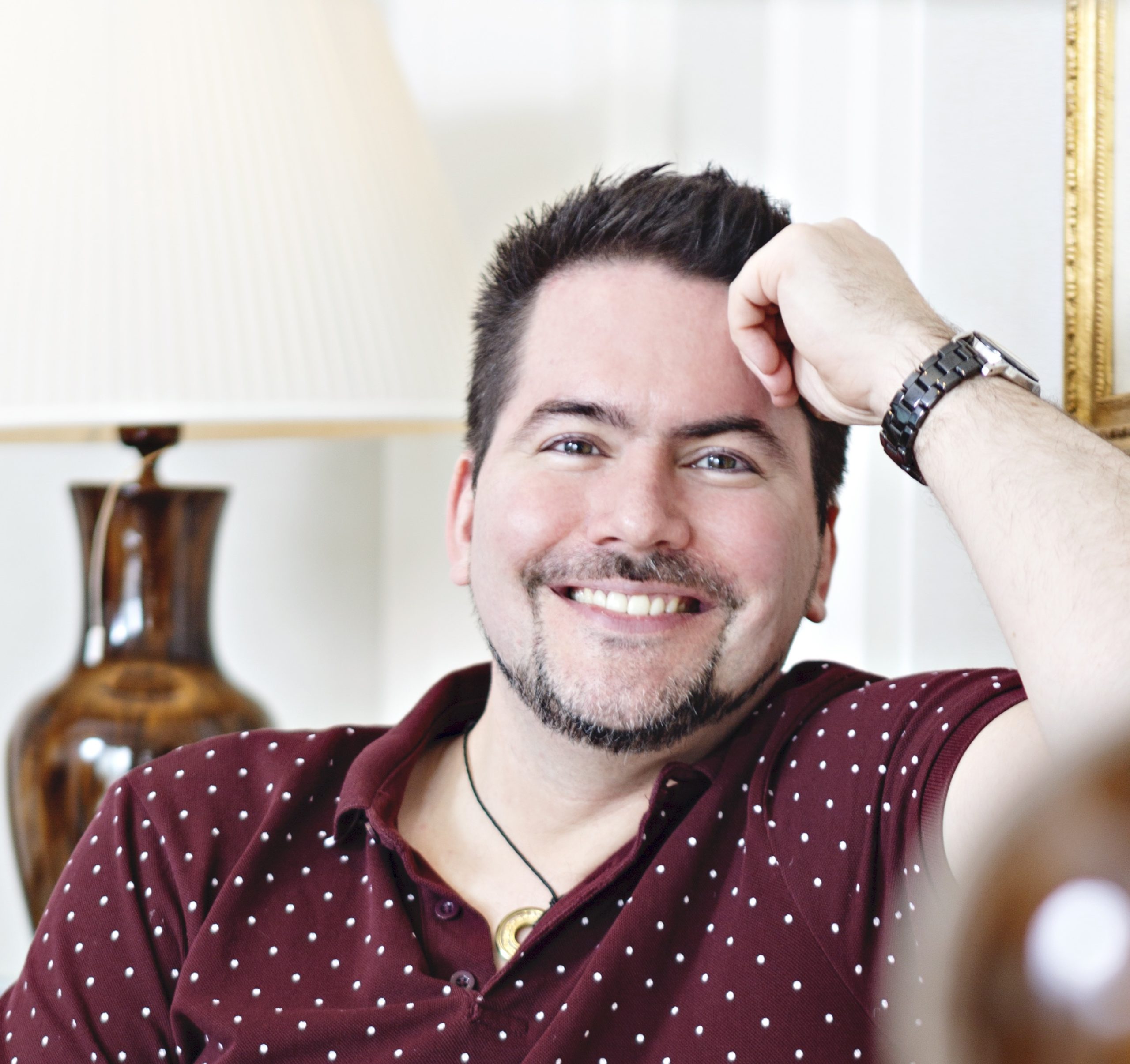 What Students Are Saying...
"Frank, I've enjoyed learning from you so much and resonate with your caring approach and wonderful breadth of knowledge. Thank you so very much!"
-Diomira D
"Love Frank's teachings! So knowledgeable, clear and calm. Learning a lot!"
-Nicole V