Working with Eclipses w/ Jennifer Racioppi
Demystify your understanding of Eclipses in just one class…
Eclipses are powerful portals of transformation, and in this Mastery Class, Jennifer Racioppi teaches everything you need to know about their potent potential. You'll learn the symbolic importance of eclipse cycles and how they tie into our biological rhythms, how to interpret their meaning for each lunar node, and the differences between lunar and solar eclipses. Jennifer teaches you how to determine for yourself the impact of eclipses both collectively and for your natal chart tying everything together through chart examples and application, making this a vital class for your astrological toolbox. If you're looking for a better understanding of eclipses, both in the sky and in the chart, this is the class for you!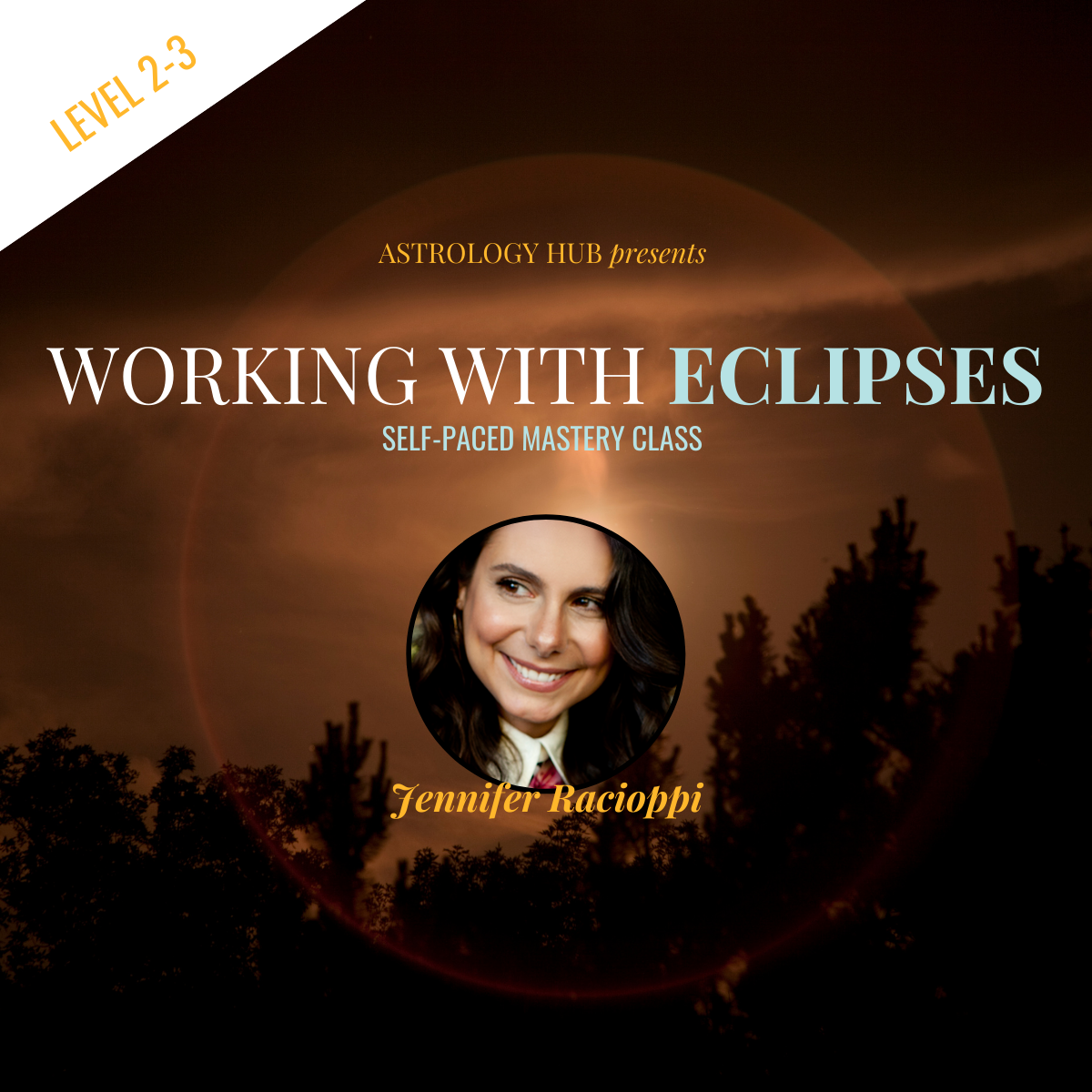 INSTRUCTORS: Jennifer Racioppi
DURATION: 2+hours
FEATURES: 
1, 90-minute pre-recorded Mastery Class in audio, video, and transcript format ($57 value)
1, 60-minute pre-recorded Q&A session in video, audio, and transcript format ($47 value)
Cliffs Notes ($27 value)
TOTAL VALUE: $131
YOUR PRICE TODAY: $97
CURRICULUM:
How to locate an eclipse in the chart & if it's a partial or total eclipse.

How to interpret the differences in meaning between eclipses on the North or South node, and between lunar and solar eclipses.

How eclipses are a part of larger cycles that are tied to our biological rhythms.

What to look for in a chart when interpreting what an eclipse could mean for an individual chart.

What eclipses could mean through the houses.

Putting it all together with chart examples.