The Health, Wealth, and Fulfillment Workshop Series w/ Judith Hill, Mychal Bryan and Georgia Stathis
Your natal chart holds the map to unlocking your potential and aligning to your soul's intention. What is YOUR path to abundance, YOUR road to wellbeing, and YOUR vision of a joyful, fulfilled life?

Not the one society, your family of origin, teachers, or other authority figures gave you… But YOURS! The one that is written in the stars and coded in your natal chart.

You can learn to decode this for yourself by joining the Health, Wealth and Fulfillment Workshop Series featuring 3 master astrology teachers.  In this workshop series, you will experience 3-weeks of back-to-back workshops including a 2 hour teaching and 90 minute prerecorded Q&A, focused on chart reading techniques that will help you overcome financial roadblocks, optimize your health, and find more fulfillment in your life.

You'll also get to learn from 3 legendary teachers who have over 100 years of collective experience!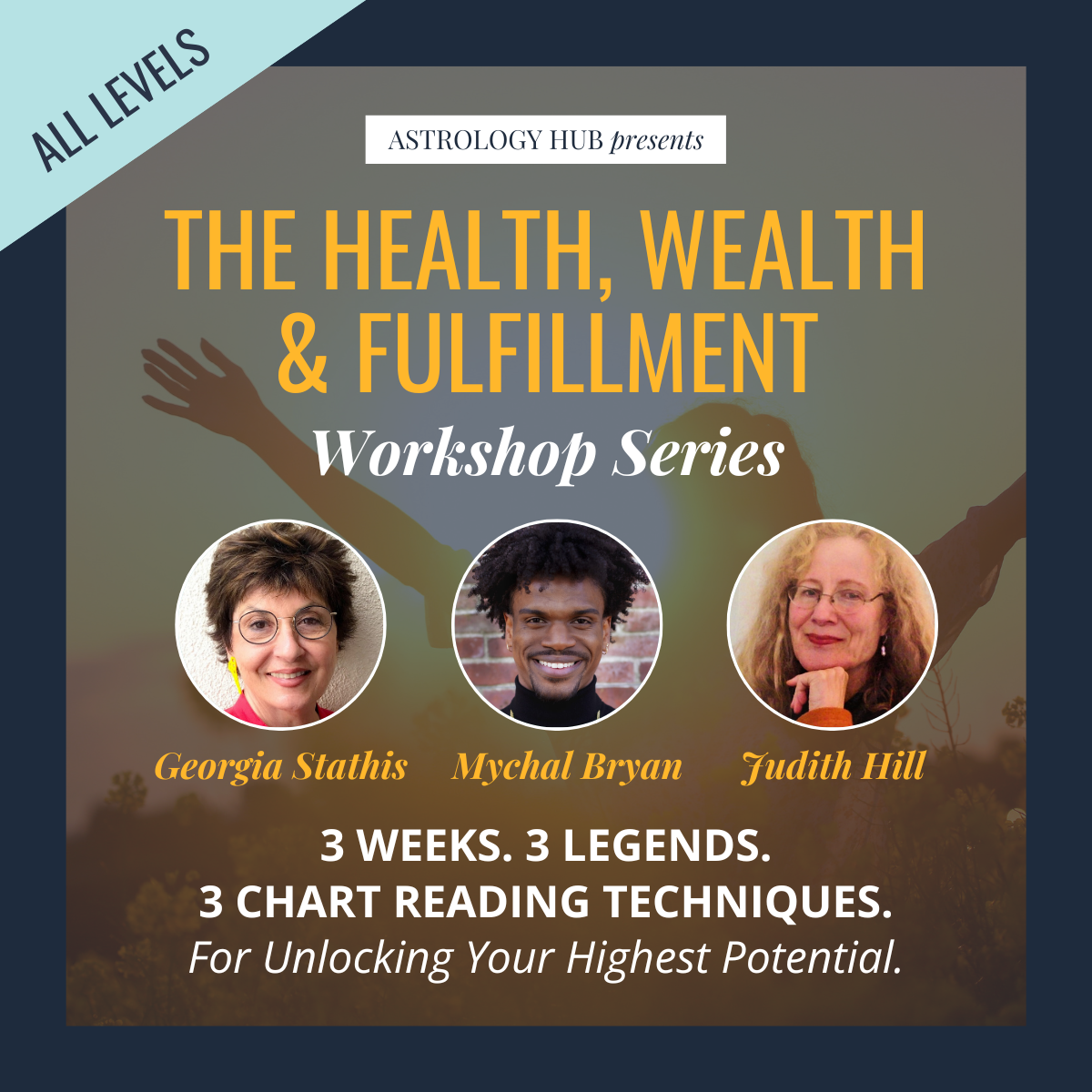 INSTRUCTORS: Georgia Stathis, Judith Hill, Mychal Bryan
DURATION: 10+ hours
FEATURES: 
What you'll get:
🔸 3 Prerecorded workshops focusing on astrological techniques to improve your personal health, wealth, and fulfillment ($591 value)
🔸 3 Prerecorded Q&A sessions to dive deeper into course content ($197 value)
🔸 Video, audio, and transcript format, including closed captioning on the recordings ($97 value)
🔸 The complete downloadable slide decks ($47 value)
🔸 Lifetime access to all course content ($247 value)
PLUS EXCLUSIVE BONUS SUPPORTING CONTENT:
🔸 Specially curated list of digital Astrological Texts from Georgia Stathis ($47 value)
🔸 Worksheets for each workshop ($97 value)
TOTAL VALUE: $1420
Retail value: $297
CURRICULUM:
🏋️ Learn How to Optimize Your Health Based on Your Chart
Understand how your zodiac sign influences your health and learn how to optimize your well-being based on your astrological constitution.

💰 Attract Abundance & Release Limiting Beliefs Around Money
It's hard not having resources, really hard, but rather than panic and continue a downward spiral, confront the blocks that keep you from reversing the trend.

🥳 Bring More Fulfillment & Purpose Into Your Life
Discover who you are meant to be in this lifetime and what skills and abilities are naturally available to you based on your astrological makeup