The 12 Zodiac Signs in Medical Astrology: Bodily Rulerships, Functions, and Symptomology with Judith Hill
Unlock the unique coding of your Zodiac Sign as it relates to your body and physical health, with Judith Hill's transformative workshop on "The 12 Zodiac Signs in Medical Astrology." In this workshop, you'll gain profound insights into the physical strengths and weaknesses associated with each zodiac sign, allowing you to optimize your well-being and overall health (and support your loved ones with the same!).

Drawing from decades of Medical Astrology study and application, empirical client observation and research, Judith shares fascinating details on body zones, assigned organs, strengths, potential health vulnerabilities, and metabolic types for each sign.

Perfect for astrology students of all levels, this workshop offers a holistic comprehension of astrology and empowers you to explore the unique physical natures of the twelve distinct Sign Types.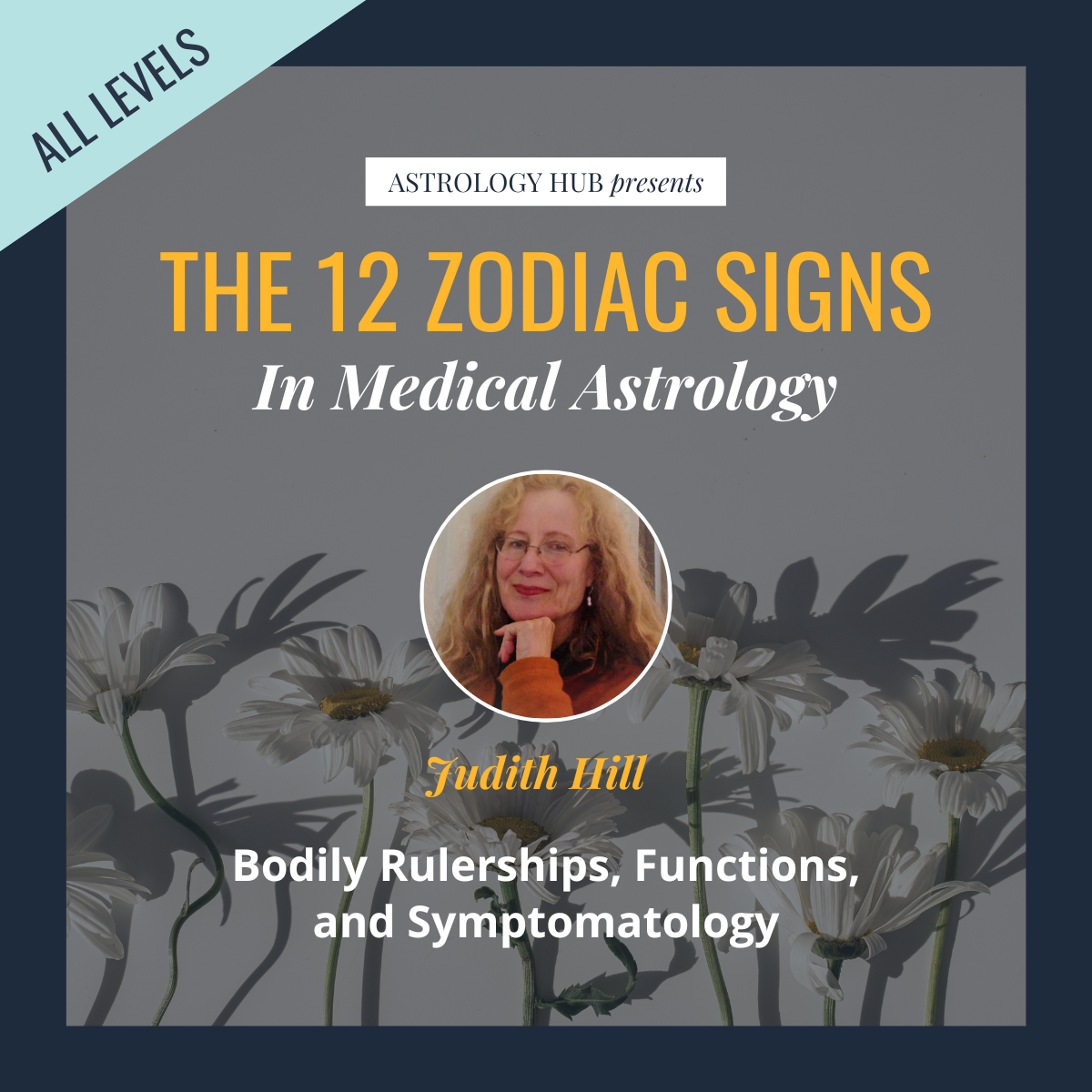 INSTRUCTORS: Judith Hill
DURATION: 3+ hours
FEATURES: 
What you'll get:
🔸 One (1) Prerecorded workshop focusing on astrological techniques to improve your personal health ($97 value)
🔸 One (1) Prerecorded Q&A session to dive deeper into course content ($97 value)
🔸 Video, audio, and transcript format, including closed captioning on the recordings ($17 value)
🔸 The complete downloadable slide decks ($17 value)
🔸 Lifetime access to all course content ($97 value)
PLUS EXCLUSIVE BONUS SUPPORTING CONTENT:
🔸 Specially curated list of digital Astrological Texts from Georgia Stathis ($47 value)
🔸 Worksheet for each workshop ($33 value)
TOTAL VALUE: $407
YOUR PRICE TODAY: $97
CURRICULUM:
🏋️ Learn How to Optimize Your Health Based on Your Chart
Understand how your zodiac sign influences your health and learn how to optimize your well-being based on your astrological constitution.
You'll learn:

Body parts each zodiac sign rules

Organs each zodiac sign rules

Physical strengths & attributes of each zodiac sign 

Potential health concerns of each zodiac sign

Diet & food pairing for each zodiac sign