Astrology for Financial Awareness w/ Mitch Scott Lewis
Learn how Astrology can help you with your finances!
Mitchell worked as an astrologer on the floor of the New York Mercantile Exchange in the 1990s and has used astrology to accurately predict the rise and fall of oil prices and other commodities, the 2008 housing market crash within days of it occurring over a year in advance, and the recent decline in Bitcoin value.
This is frank, real-world information to support you in making the best choices with your money.
In this webinar, which is perfect for ALL levels, you'll learn about the astrological history of the U.S. financial system in order to shed light on the current economic reality.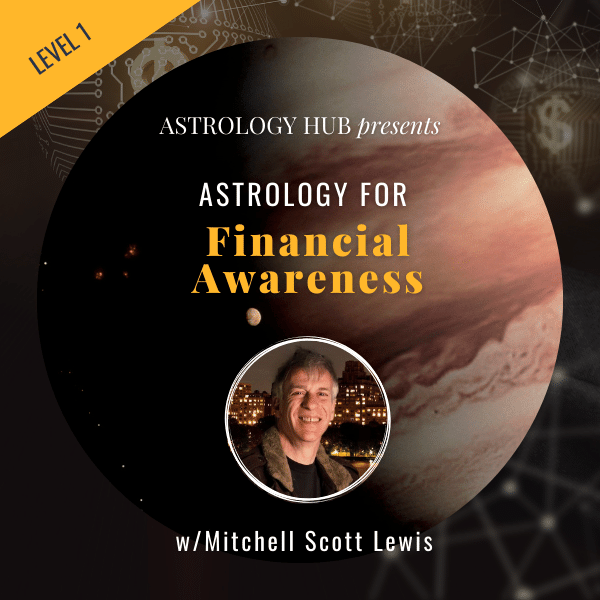 INSTRUCTORS: No items found
DURATION: 3+hours
FEATURES: 
1. Instant Access to the 2-Hour, Astrology for Financial Awareness Webinar
2. An Exclusive, 2-Hour Recorded Q&A
3. Downloadable Mp3 Audio.
RETAIL PRICE: $120
YOUR PRICE TODAY: $55
CURRICULUM:
Webinar: Astrology for Financial Awareness
By taking an astrological historical journey through the past, you'll get a deeper understanding of our current economic situation including the stock markets, oil, inflation, interest rates, the housing market, cryptocurrencies, and more.
You'll learn if the astrological cycle we're in now, suggests whether or not the…
Current inflationary period will continue.
Housing market will continue to drop, or rebound.
Price of cryptocurrency will rise again, or has the bubble burst?
Bear market will continue and get worse? Are we headed toward a stock market crash? 
Interest rates will continue to climb and if so, for how long?
And whether or not a recession is likely… and if so, how bad will it be?
You'll also learn… 
How to find safe havens… where can you park your money?
What the astrology suggests about metals like gold and silver.
About dividend paying stocks, bonds & money markets.
Some of the recurring astrological patterns that affect financial markets.
4. Tips for best navigating this tumultuous time for you and your family.