Decoding Your Chart to Overcome Your Blocks to Abundance with Georgia Stathis
Learn about the planets, rulers and aspects that impact your prosperity… and how to work with them, not against them!
Do you struggle getting traction in your financial life? Would you love to feel truly prosperous in the fullness of that word? And do your financial goals feel constantly out of reach? There's answers for you in your astrological chart, and Georgia will help you find them!
Explore how fear (Saturn) can impede abundance and how Jupiter's benefic influence may lead to overspending. Dive deep into the rulers of the 2nd and 8th houses, understanding their aspects and impact on financial management, spending habits, and values.
Identify the planet ruling your 2nd and 8th houses for valuable insights into financial planning, salary, and debt management.
Georgia expertly uncovers hidden blocks in your chart and reveals possibilities for expanding abundance.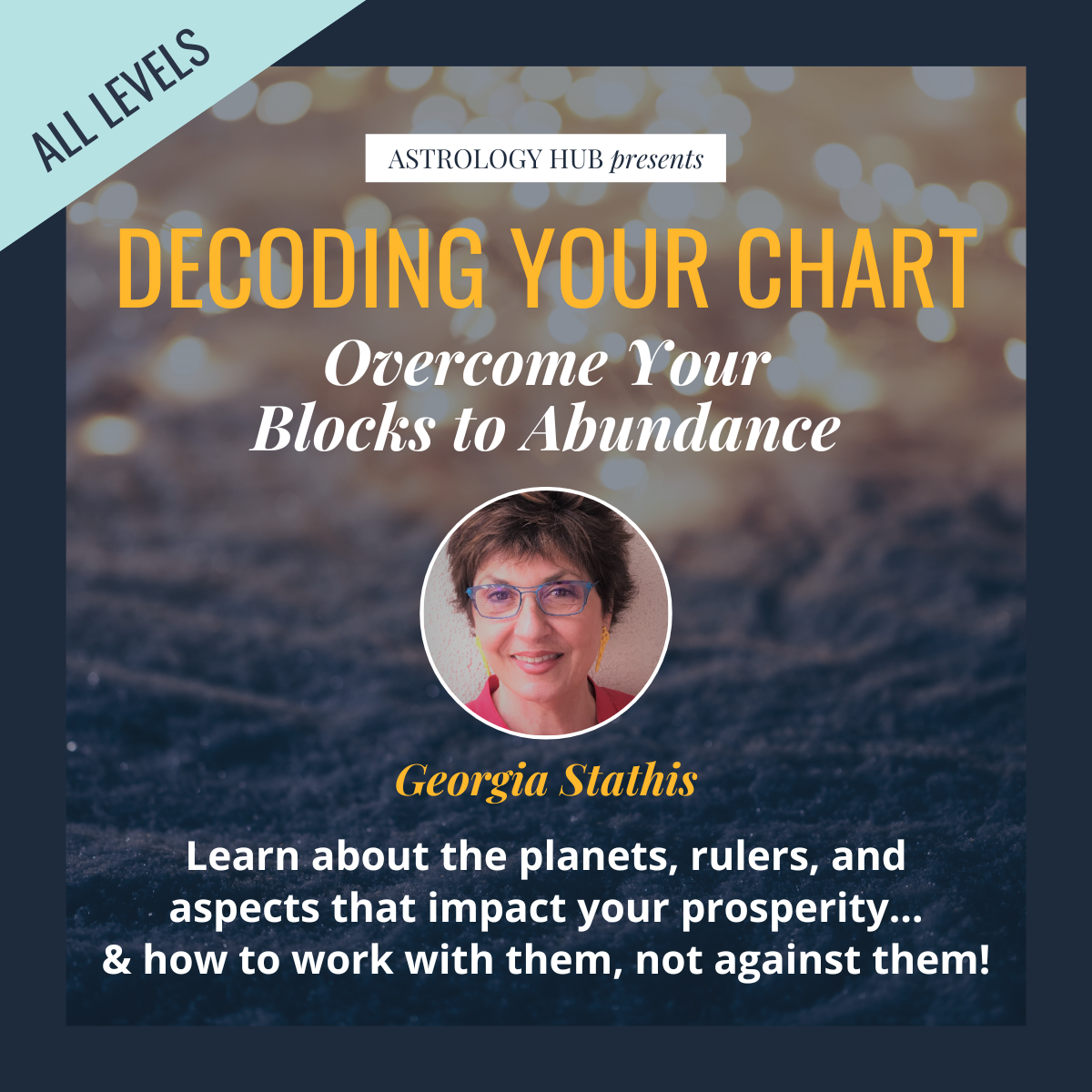 INSTRUCTORS: Georgia Stathis
DURATION: 3+ hours
FEATURES: 
What you'll get:
🔸 One (1) Prerecorded workshop focusing on astrological techniques to improve your personal wealth and abundance ($97 value)
🔸 One (1) Prerecorded Q&A session to dive deeper into course content ($97 value)
🔸 Video, audio, and transcript format, including closed captioning on the recordings ($17 value)
🔸 The complete downloadable slide decks ($17 value)
🔸 Lifetime access to all course content ($97 value)
PLUS EXCLUSIVE BONUS SUPPORTING CONTENT:
🔸 Specially curated list of digital Astrological Texts from Georgia Stathis ($47 value)
🔸 Worksheet for each workshop ($33 value)
TOTAL VALUE: $407
YOUR PRICE TODAY: $97
CURRICULUM:
💰 Attract Abundance & Release Limiting Beliefs Around Money
It's hard not having resources, really hard, but rather than panic and continue a downward spiral, confront the blocks that keep you from reversing the trend.
You'll Learn:
How to reframe fear, scarcity mindset and removing blocks to financial freedom

How your family attitudes towards security impact us through the lens of the chart

Why you should look at the 2nd & 8th house rulers, as well as aspects to the rulers, for financial insight

How to recognize sudden opportunity in your chart

How to wait and plan ahead according to your unique chart